Arts & Entertainment
Mutiny Studios Brings It Home for the Holidays
Area Talents Converge in the Funk Zone for Annual Concert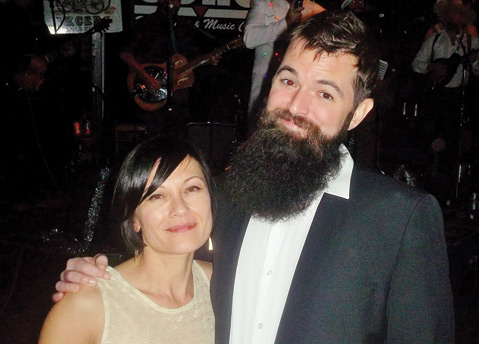 It's December, which means holiday party season is officially upon us. Chances are your inbox is currently flooded with more invites for festive soirées, cheery get-togethers, pop-up gift shops, and musical merrymaking than you know what to do with — which is where we come in — because as seasoned vets of seasons greetings, we know where to steer ya. This week, the party of choice shakes down in the Funk Zone — at Seven Bar & Kitchen, to be exact. It's there that Santa Barbara's own Mutiny Studios sets up shop and plugs in for its 3rd Annual Holiday Spectacular.
The whole thing is being billed as a "step back in time to an age of showmanship and glamour — with a healthy sprinkling of irreverence and rock," and with Mutiny's impressive event-planning track record, we have no doubt it'll be a winner.
As in years past, the bill is stacked with some of the S.B. music scene's heaviest hitters, including hosts The Mutineers. But this year, on top of the change of venue, they're mixing things up a bit. For one, instead of a number of full-band setups, the crew is employing Burt Murdoch and his Mutiny Studios Holiday Ensemble to act as the house band. With Murdoch on backing duty, Mutiny will welcome a lengthy list of musicians to the Seven stage, including Vegas Washington, Big Jugs, Matt Armor, Gustavo Lizarraga of Cornerstone, Becca and Ralph Lowi of Holdfast Rifle Company, Tommy Trujillo of The Reignsmen, Dustin Janson of Freakin' on Speakers, Paola Jimenez, Patrick Hayes from The Dead Volts, and Hayley and Reid Cain of Tarweed Two & The Two Time Boys. In addition, Mutiny is cranking the sex appeal up a notch with burlesque performances by Angie Cakes and Fever Blister.
Want to get in on the action? The party takes place Saturday, December 7, at 5:30 p.m. at Seven Bar & Kitchen (224 Helena Ave.). The event is 21+. Visit mutinysb.com or nightout.com for tickets. Call (805) 636-0913 for info.