Film & TV
Review: Out of the Furnace
Christian Bale, Casey Affleck, and Woody Harrelson star in a film written by Scott Cooper and Brad Inglesby, and directed by Cooper.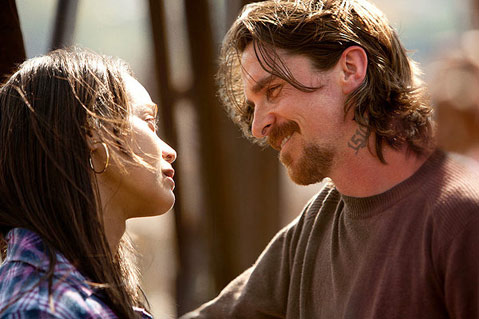 Sometimes, our response to a particular film can be unfairly preconditioned, in the place where the rubber of high expectations meets the road of flawed end product. Such is the case with Out of the Furnace, which promised to be an inspired meeting of artists: This is director/writer Scott Cooper's follow-up to the great and Oscar-kissed 2009 film Crazy Heart and features two of the finer American actors around, Christian Bale and Casey Affleck. Unfortunately, the promise doesn't hit artistic pay dirt in a satisfying way, despite the ample supply of good stuff.
The central pair play — and play well — brothers in a lushly green and hard-scrabble Pennsylvania steel town in the "rust belt," one (Bale) toeing the line and working in the mill, like his now-dying father before him, and the other (Affleck), a volatile Iraqi veteran struggling to stay "out of the furnace" and leaning into dubious/criminal doings. Out of the Furnace takes its ripe title from the setting of its troubled characters' lives, in which a Pennsylvanian steel-mill fires symbolize molten emotions. Completing the cliché, Out of the Furnace's "into the fire" element of the story involves a deadly DUI, backwoods bare-fist fights for money, and dangerous tangles with a druggy demimonde, with the help of figures from the dark side, played with scary cool by Woody Harrelson and Willem Dafoe (the former out evil-ing the latter).
Out of the Furnace is an interesting couple of movies, never successfully stitched together. We are first introduced to Harrelson's almost comically amoral Appalachian thug character in the opening, prelude-like scene, and we learn he is malevolence incarnate, a man of few words — and often darkly witty ones — and sometimes brutal actions. At one point, Bale's character asks him, "You got a problem with me?" He responds, "I got a problem with everybody." True that. From a more realism-connected angle, the troubled family saga at times fleetingly reminds us of that masterpiece set on working-class Pennsylvanian turf, The Deer Hunter, replete with the sodden and grittily romantic atmosphere and use of deer hunting as a metaphor.
Alas, all the cinematic virtues built up in the first two-thirds of the film go south, succumbing to a lame chase/showdown and pulp-fiction tactics. In short, Out of the Furnace heads into the mire, but not before giving us plenty of cinematic substance to savor.