Arts & Entertainment
Review: Dawes at the Lobero Theatre
Classic Laurel Canyon Sounds Get Updated on December 11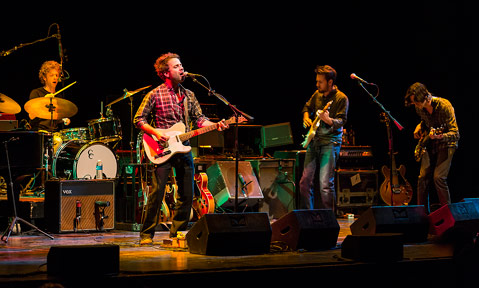 It's always interesting to see a band on the rise, and that's certainly where Dawes is at the moment. Their 2013 release, Stories Don't End, is making a mark, especially among the rock 'n' roll and Hollywood elite. For example, they collaborated with their pals the Killers on a Christmas song, "Christmas in L.A.," and got one Owen Wilson to act in the video.
On Wednesday, December 11, the Los Angeles–based quartet trekked up the 101 to the Lobero, where they played two powerful sets in front of an enthusiastic and mostly younger crowd. After sharing the vocals with former bandmate and now solo artist Blake Mills, frontman Taylor Goldsmith showed fans what he does best: belt out the kind of rock that most of us thought vanished in the late 1970s. Songs like "From a Window Seat," "Just My Luck," and "Fire Away," from their 2011 release Nothing Is Wrong, all sounded tremendous in the warm confines of the newly refurbished Lobero, with Griffin Goldsmith not only keeping the beat but also adding some brotherly harmonies from behind the drums, à la Levon Helm.
What keeps these straight-ahead rockers from sounding like throwbacks or copycats are the sophisticated, jazz-like touches they bring to the mix. A big anthemic song like "A Little Bit of Everything" gets punched up with some artsy but not-too-self-indulgent guitar madness, and that walloping sing-along chorus sounds that much better for it. It's as though the Eagles were somehow down with Sonic Youth, and on this early winter night in Santa Barbara, people were digging it.