Columns
A Talk with Trula Breuninger
SBNC CEO Plans to Open New Goleta Clinic
Trula Breuninger was eager to talk about her job and the great things she expects for the future of Santa Barbara Neighborhood Clinics, when I met her last week. Since July, Breuninger has been head of the popular health-care provider and working to steer it out of financial uncertainty. "I've done a lot of this type of work, you know? That's what I do; I help organizations through issues."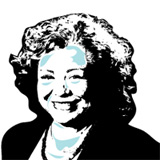 In the past, Breuninger has helped state, local, and tribal governments, universities, and integrated health-care organizations, among others, get through difficult times. The Neighborhood Clinics (SBNC) had previously brought in a consultant, who presented them with options, and as Breuninger explained, "The main ones were: reduce cost, increase productivity, and increase revenue." Which sounds logical, but the devil, as usual, is in the details.
Breuninger explained that the clinics will have to "monitor and improve operation efficiencies, including the way that we bill Medi-Cal, for example, which is a major source of revenue. We have to have certain number of encounters to bill what they call the PPS rate (Prospective Payment System rate) so we've been improving that system."
"Regarding productivity, we have to meet productivity standards for our physicians and for other mid-level clinicians, like nurse practitioners, and others," Breuninger said. "They need to see a certain number of patients in a day's time, and we get to bill for those services. If we see less patients, it means less revenue. We need to pay attention to this, for our budget projections. We are always looking for new opportunities to improve our operation processes."
SBNC recently announced plans for a future new clinic in Goleta with federal dollars from the Health Resources and Services Administration (HRSA). Wouldn't it be better to spend the money to improve the financial situation of the organization? I asked. Breuninger told me that this money was the result of a process that started a long time ago when a grant application was submitted.
"SBNC applied for what's called New Access Points dollars from the Health Resources and Services Administration (HRSA). HRSA supports community health centers, the safety net providers, all across the country. When they want to expand to a new area, they call it New Access Points, which are areas with a large population that has been medically underserved. SBNC went through their grant review process and scored very well for potential funding. It was a process, and it is wonderful news for the SBNC and for Goleta."
She went on to clarify that "I.V. is a different issue because the facility is not ours; we lease it. Some advocacy groups have worked to keep that building for government use. We have a contract with Santa Barbara County to serve the homeless patients, so we provide services to this population in all of our medical facilities and in our dental facility. We've been advocating for that to remain intact, so we can to continue to lease that facility to provide our highly needed services."
When asked about when Isla Vista would find out if its clinic would remain or not, she responded, "I have no idea. The oversight committee voted unanimously to keep it, but ultimately is the California Department of Finances' decision."
The population that the SBNC serves is low income, but its CEO shared that one-third of their client population is uninsured. They pay on a sliding scale, and sometimes they don't pay. As a federally qualified care center SBNC is mandated to serve this population. "We can't turn them away. It is considered uncompensated care. In order to serve these particular clients, we need the community support."
As for SBNC's future, Breuninger spoke of caution and improving efficiency, as well as fundraising and grant opportunities. "Right now the big thing on our plate is to open the Goleta Clinic," she said. "Our goal is to have it open in March. We're looking for a location, hopefully in the main area of downtown Goleta, which is the concentrated area of a high number of medically underserved individuals."
She felt that SBNC had gained a measure of stability since its financial crisis and had a goal to be sustainable. "We want to strengthen the relationship with our community support. I want people to know that they can trust that SBNC is a good investment and that we are certainly going to be a thriving organization."