Books
Book Review: Muse Books: The Iowa Series in Creativity and Writing
Creative Writing Advice from Famous Writers
According to the Iowa Series in Creativity and Writing guidelines, "Each Muse Book will present what a seminal literary figure had to say about ages-old questions of reading, writing, and creating, in essence shaping a literary guide and writer's handbook." It's a clever premise, and one can immediately imagine all sort of writers' guides culled from the work of everyone from Shakespeare to Emily Dickinson. To date, however, only four books have been published—on Ralph Waldo Emerson, William Blake, William and Henry James, and John Keats.
The first, Robert D. Richardson's First We Read, Then We Write: Emerson on the Creative Process (2009) follows the premise most closely. Perhaps that's because Emerson often sounds very much like a contemporary teacher of creative writing, preaching the maxim of Show, Don't Tell. "Skill in writing consists in making every word cover a thing," he writes. Elsewhere, Emerson enthuses, "what a sensation a historical fact, a biographical name, a sharply objective illustration makes!" Emerson tells writers to read extensively, to write frequently, to pay attention to their audience—advice students will find in current textbooks—and Richardson's chapter headings further emphasize this handbook element with titles like "Keeping a Journal," "Practical Hints," and "More Practical Hints." Overall, the book, while brief (85 pages without notes), delivers on the series' promise.
Eric G. Wilson's My Business Is to Create: Blake's Infinite Writing (2011) contains some writing advice, but the book is more preoccupied with Blake's complex system of symbols, his "infernal method." The writing is perceptive, and in chapters such as "Work," "Play," "Experience," and "Minute Particulars," we can learn a great deal by inference. Still, one wishes Wilson had more frequently and explicitly made Blake "a literary guide" for novice writers. When he does, My Business Is to Create is most successful, as in Wilson's observation on Blake and revision: "To be freed from the notion that first drafts even exist, to understand that you're already revising the minute you put word to page: this makes it easier to modify those initial sentences. There's nothing special about them. They're yesterday's news."
This year has brought two new entries into the series: Wm & H'ry: Literature, Love, and the Letters Between William & Henry James, by J. C. Hallman, and A Brighter Word Than Bright: Keats at Work, by Dan Beachy-Quick. Both Hallman and Beachy-Quick are talented writers, and they know their authors' work well. Like Wilson, each has been given considerable freedom to explore his subject, and like him they both reject a narrow focus on craft.
Of the two, Hallman strays furthest from the purported aims of the series. Readers looking for choice quotes from the compendious letters exchanged by the two James brothers—one a master of the novel, the other a great scholar of religion, philosophy, and psychology—will be delighted. "For the better part of a year," Hallman writes, "I carried those cinder-block books around in my satchel, their stiff library binding gouging my lower back as I biked around town." The resulting book does a remarkable job of compressing this correspondence into relatively few pages, nearly all of them offering insight into William and Henry's symbiotic relationship. What's missing, though, is much in the way of practical advice to writers.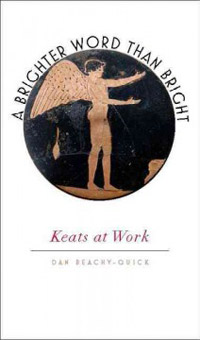 Beachy-Quick's A Brighter Word than Bright is a lovely literary biography; like Stanley Plumly's recent Posthumous Keats, it highlights one poet's appreciation of another. Though he's only 40 years old, Beachy-Quick is already one of our smartest literary critics, and his nuanced reading of Keats's poetry is certainly worth the price of the book. Once again, however, the "writer's handbook" aspect is somewhat neglected—a shame, given that Keats was so generous with writing advice in his letters.
As a professor of creative writing, I'm obviously biased in the direction of books like Richardson's, which can be used by apprentice writers to strengthen their own work. On the other hand, as a general reader I appreciate how the editors have encouraged exploration and experimentation. It will be fascinating to see what Iowa publishes next: like literature itself, the Muse Book series has almost limitless possibilities.