News
Goleta Approves New Mosque
Islamic Society Celebrates Long-Awaited Community Center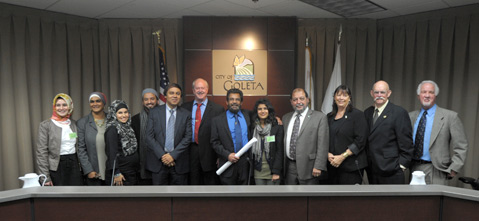 Brendan Newlon may have said it best: "A Muslim, a Christian, and a Jew walk into a city hall …" Newlon, a religious studies PhD candidate at UCSB, wasn't making a joke but a reference to the outpouring of interfaith support (including a representative of the Hindu community) that argued the case in favor of approving the Islamic Society of Santa Barbara's community center to the Goleta City Council Tuesday night.
After an hours-long hearing that featured no public opposition, the council unanimously gave the project the go-ahead, an approval more than a decade in the making that brought tears and cheers to the councilmembers and the 100-plus attendees. "All of us made history today," said Jamal Hamdani, the chair of the Islamic Society of Santa Barbara (ISSB). "I am truly proud to be an American, a Muslim, and a member of this community."
The 10,000-square-foot community center ​— ​which will include, in addition to a prayer area, a library, dining room, and lecture hall ​— ​is slotted for the corner of Los Carneros Road and Calle Real, a property the ISSB purchased in 2001. The space will be the first permanent place of worship in the county for the Muslim community, which has been meeting for prayer in the Goleta Valley Community Center.
With the council's green light (it was also okayed by the city's Planning Commission on 11/25), the ISSB hopes to have its permit by early summer, said society cofounder Mukhtar Khan. Councilmember Ed Easton, who has held various leadership positions since in the Good Land, was touched by the turnout. "We've never had a meeting like this in City Hall," he said. "This is amazing. This is amazing."