Theater
The Return of Santa Barbara Revels
The Spirits of Haddon Hall Come to the Lobero Theatre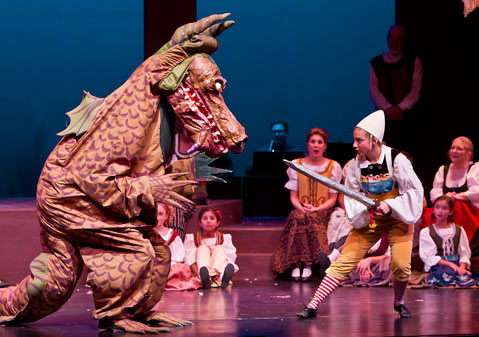 Charles Dickens may own a big chunk of the holiday airtime with his immortal Carol, but he does not have a lock on the whole of the English Christmas tradition, nor will he be allowed to have the last word on the spirits of Christmas past — at least not if the Santa Barbara Revels have anything to say about it. This multifaceted, historically informed, and highly collaborative spectacle will be coming to the Lobero Theatre again this year for three performances this weekend. The theme for Revels changes every year, and this season the production will portray The Spirits of Haddon Hall, a company of noble ghosts who band together to preserve the historic medieval great house in which they have each celebrated the holidays for a total of eight centuries. When I spoke with Revels Artistic Director Susan Keller recently, she told me about both the decision to use this particular theme and the real-life story behind it. "We saw two wonderful productions of The Spirits of Haddon Hall at last year's national Revels conference in February — one from Puget Sound and the other from Washington, D. C. — and they were very different, but both were fun," said Keller. "Even though there are supernatural characters involved, the story is based on fact. Haddon Hall, a medieval manor house from the 12th century, was slated for destruction when its owner, the 9th Duke of Rutland, arrived there to take a look around in the 1920s. He decided that the hall, which at that time had been abandoned since the 17th century, belonged in the National Trust, and he spared it the wrecking ball," Keller explained. "The story that we will tell has the Duke, his wife, and his children arriving on Christmas Eve and getting stranded there overnight. The ghosts of all those who have ever celebrated the holidays in Haddon Hall then come out to play, and they convince the Duke not to tear the building down."
Bill Egan will play the 9th Duke of Rutland, and Jennifer Vogel will portray the Duchess. Matt Tavianini, a Revels regular, returns as Motley, the Hall's fool. Ken Ryals, another Revels mainstay, will lead the group in song, and The Santa Barbara Independent's own Robby Robbins will appear as a puppet in the form of a dragon. Robbins took the dragon puppet out of storage for the Santa Barbara Holiday Parade, and the response from the crowd was enthusiastic, something that organizers hope will attract new audience members to the 2013 production. In addition to the usual Revels elements, such as "The Lord of the Dance," the mummers, and the 12 days of Christmas, there will be an augmented musical ensemble, or more accurately two of them: a seven-piece group composed of winds and strings called the Peak District Players and a six-piece brass section from Santa Barbara City College known as the Bakewell Brass Ensemble.
Revels will be among the first organizations in town to benefit from the Lobero's new esplanade, which has already proved to be a great addition to the venue. As part of the audience participation aspect of the classic Revels' number called "The Lord of the Dance," spectators join with the performers in a kind of Christmas conga line that extends out through the lobby and into the fresh air. The Yuletide Children's Chorus, always a key feature, will include groups from both Franklin and Harding Schools, and new, lower ticket prices and family discounts are also available.
4•1•1
The Santa Barbara Revels present The Christmas Revels at the Lobero Theatre (33 E. Canon Perdido St.) on Saturday, December 21, at 2:30 and 7 p.m. and Sunday, December 22, at 2:30 p.m. Call (805) 963-0761 or visit lobero.com for tickets and info.