Dotty is a one-year-old female Chihuahua who is as sweet as can be. She is very social and loves everyone she meets. She's somewhat submissive and would make a great first time dog. She's also a tri-pod and only has 3 legs! She gets around just fine though and you would never know she was even missing a leg. Dotty is a shelter favorite here!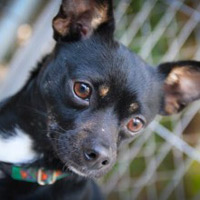 To inquire about adopting a dog, visit DAWG in Santa Barbara. DAWG (Dog Adoption and Welfare Group) is a no-kill not for profit dog rescue/adoption organization located at 5480 Overpass Road in Goleta. For more information, call 805-681-0561. You can view more adoptable dogs at www.sbdawg.org. All of the dogs have been spayed/neutered, micro-chipped, are current on their shots, and have flea/tick/mosquito protection. We ask for a minimum adoption donation of $250 for young dogs (under three years), $150 for adult dogs, and $125 for seniors (dogs 8 years old and over).
For more information on our available dogs, call (805) 681-0561, email adopt@sbdawg.org, or come by during open adoption hours, Thursday through Monday, 12-5 p.m.
Lisa Acho Remorenko is executive director of Animal Adoption Solutions, www.animaladoptionsolutions.com