Film & TV
Review: Labor Day
Josh Brolin, Kate Winslet, and Gattlin Griffith star in a film written and directed by Jason Reitman.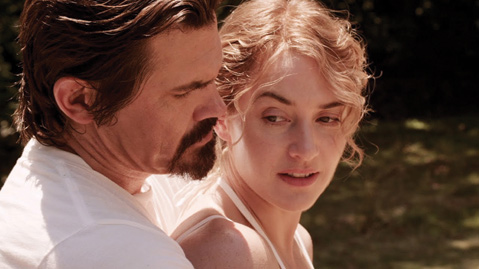 There's nothing like laughably bad guilty pleasure/unintentional comedy with easy-on-the-eyes Hollywood stars to quiet the dizzied brain of the obsessive film-festival-goer. After a long day sinking into the more serious cinematic fare of the Santa Barbara International Film Festival, a visit to the multiplex late on Sunday night to see Labor Day was just the ticket, a good reminder of the American movie world still in progress in the "real world" beyond the festival. But we digress.
In this golden turkey by the normally golden Jason Reitman (a script based on Joyce Maynard's novel), the end result is so bad that it's amusing in its own perverse way. The cast — with Josh Brolin and Kate Winslet — shines much brighter than the material they're roped into: an utterly unbelievable yarn about a prison escapee hiding out and winning over an emotionally and psychologically fragile divorced mother and her son for five days. Brolin is a cookie-cutter midlife Mr. Right, a handsome fellow and handyman par excellence who also knows his way around the kitchen (and, we're led to assume, the bedroom) and is good with kids and a baseball. It sucks, though, about that nagging, nasty murder rap he is on the run from.
While Labor Day scores points on the guilty-pleasure index, it feels labored and mawkish from the outset, akin to a screen surrogate of an embossed paperback romance novel, but with actors who should know better than to sign on. We keep waiting for some indication that the filmmakers and cast know what a joke they're in the midst of, or some fourth-wall gag to indicate it's all a satire, after all. At the very least, a character-breaking blooper or two in the end credits would have helped suspend our disbelief that this is actually in a theater near us.
Back to the unreality of the SBIFF.