News
Racing Santa Barbara
Bicycle Crits, Cyclocross, Road Racing, and BMX
I'm not a racer. You won't find me revving a car, motorcycle, snowmobile, horse, or bicycle. It must be a recessive trait in my genes because my daughter Danielle has spent a number of years riding and racing with Team Beer in Portland.
The Indy crew sports a number of bike enthusiasts, and when I asked them what they'd like to read in this column, they mentioned the local bike-racing scene, bike-path etiquette, do-it-yourself saddlebags, the nighttime bike scene (Bike Moves!), the lack of adequate bike parking downtown, and the pleasures of a well-oiled chain. I'll get to those topics in future columns, but as a teaser for DIY saddlebags, here's a homemade saddle that I found on a bike at Bici Centro.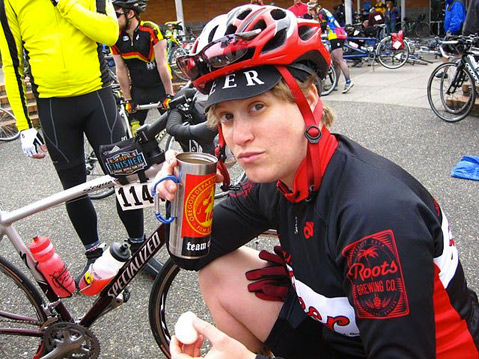 I may not be a racer, but I can write about bicycle racing. Last year Santa Barbara was the host to both a finish and start of the Amgen Tour of California. This year's Amgen Tour will feature nine pro cycling teams riding from Sacramento to Thousand Oaks. For Stage 5, on May 15, cyclists will start in Pismo Beach and finish on Cabrillo Boulevard. Be there to watch and cheer as the pros finish Stage 5!
You probably can't ride in the Amgen, but you could ride in the Firestone Walker 805 Criterium. A criterium, or crit, is a bike race held on a short course (usually around one mile), often run on closed-off city streets. Crits are a fast-paced challenge for cyclists and a thrill for spectators. That's exactly why Mike Hecker started the 805 Crit. He believes that the only way to build enthusiasm for racing is to get spectators excited by seeing the action up close and personal. At crits you will be right in the action!
So head up the Santa Ynez valley on May 9, 10, and 11. The 805 Criterium Weekend will feature three very challenging courses for racers. Both amateur and pro cyclists of all ages will race in Buellton and Lompoc for over $40,000 in cash and merchandise prizes. Two of the races, The Avenue of the Flags and the Valley of Flowers, will happen in the center of downtown Buellton and Lompoc. This year a third Friday twilight race has been added to the schedule at the Allan Hancock College Emergency Vehicle Operator course.
There will also be free kids' races, a mini expo area, bike rodeos, and a Firestone Walker 805 Beer Garden at the races in Buellton and Lompoc. It's Mother's Day weekend, so the first 500 mothers will each receive a free rose! With the support of the Lompoc Police Foundation and an army of volunteers from local cycling clubs such as Echelon, Goleta Valley Cycling Club, One Way Cycling, Col Vento Cycling, and the Santa Ynez Cycle Club — Hecker intends to make the 805 Crit a new Santa Barbara County tradition.
You're probably wondering why we don't have a criterium race in Santa Barbara. Hecker is working quietly behind the scenes to build public and business support to make it happen in the future. You may not know it, but Santa Barbara has a rich historic place in the world of bike racing and training young cyclists. Santa Barbara and its local bike clubs have helped launch the careers of a number of legends including Rory O'Reily, Alex Darville, Adam Duvendeck, and Derin and Kurt Stockton. In the past, over 10,000 people lined State Street for the Santa Barbara Grand Prix. Sadly, the last race was in the early 1990s. It's time to bring a race back to the streets of Santa Barbara!
Mike Hecker loves the sport of bike racing. That's why he is also the proud founder of the Dirt Club in Los Olivos. The Dirt Club provides 23 miles of groomed single-track on a 1,200-acre ranch that is perfect for mountain bike riding and racing. You can become a member, or there's a small charge for nonmembers to ride. The Dirt Club holds three major racing events each year: the Santa Ynez MTB Classic (April 5), the SoCal High School Championships race (April 26), and the 24 hours of Halloween.
Whether you are a spectator or racer, there are other local racing opportunities to get your adrenaline high. You might want to try a cyclocross race. The season is over now, but next fall check out the SoCal Prestige Series. Two of my friends, Denni and Lynneal, recently rode in the race at the Lake Casitas Recreation Area and said that it was great fun. Cyclocross is a sort of off-road criterium. Racers ride many laps on a short 1.5- to 2-mile course featuring a mix of pavement, wooded trails, grass, steep hills, and obstacles requiring the rider to quickly dismount, carry the bike while navigating the obstruction, and remount. Races are for a set amount of time, typically 30 minutes.
If you like dirt, try a BMX race at Elings Park. Or, if you love sprinting on a stationary bike, check out Cranky's Bicycles for their famous Gold Sprints. Gold Sprints combine music, beer, cheering, and pedaling as fast as you can. Here's a short video of Gold Sprints at Velo Cult in Portland.
Racing is alive in and near Santa Barbara County. We've got criteriums, cyclocross, road racing, BMX, and more. Combine that with the enthusiasm and dedication of race promoters like Mike Hecker, and the future for races that nurture the next generation of winners is excellent. See you at the races!