Film & TV
SBIFF 2014 Peeps, Part Deux
Celeb-Spotting and Party-Hopping Through the Fest
"My people!" cried Oprah Winfrey to a packed Arlington last Wednesday, kicking off an evening that left us all even more enamored of the legend we can count as our neighbor. Simultaneously one of us and larger than life, O had the crowd in her thrall from the start, cracking jokes about her "body of work." True, she hasn't done many films, but that meant covering them wouldn't take long. "Santa Barbarans like to be home by 9:30," she laughed. "We'll get you home!"
Her recollections were equal parts comic and profound: conjuring a memory of clinging to the bumper of an old boyfriend's Datsun as he pulled away in order to cry for a scene; languishing on a "fat farm" before being cast by Steven Spielberg in The Color Purple. On selecting projects, she said, "The goal is to get to the point where you only do what matters and make decisions that enhance who you really are." Of her history: "Your crown is paid for …. My mother was a maid; her mother was a maid; her mother was a slave. And I get to be who I am. I live in Montecito! Isn't that a miracle?"
Accepting her award, Winfrey said, "To stand in another person's shoes, to peer … into someone else's soul is what true empathy and being a real human being is all about." And then: "See you at Vons!"
But first, the VIP lounge. Nervously, I approached to ask for a photo. She paused, then said, "Screw Gayle! I want you to be my new best friend! And would you like a new car?" Okay, not really, but she did smile gamely for my camera and lingered with the crowd, clapping with delight when a Hennessy rep presented her with a bottle of the Paradis Imperial cognac we'd toasted her with.
How to top that? If you're the SBIFF, you deploy quintuple collaborators Martin Scorsese and Leonardo DiCaprio. S.B. turned out in force to welcome the power couple, as did Ukrainian journo/jester Vitalii Sediuk, who leapt the barrier and buried his face into Leo's crotch. (And a million girls smacked themselves, saying, "Why didn't I think of that?!") Leo seemed unfazed ​— ​perhaps it's happened before? ​— ​and the program proceeded smoothly. Leo spoke of his childhood and his preference for roles based on real people ("You don't have to make up so much shit"); Scorsese said that when he first saw What's Eating Gilbert Grape, he found DiCaprio's performance so convincing that he thought it was a documentary. Jonah Hill offered some sweet words in his presentation of the awards, and the Wolf pack was complete.
Afterward, Leo, Marty, and Jonah were led into a corner of the Hennessy lounge. I followed, screwed up my courage, marched over to Leo, delivered this sultry line, "Hi, I'm with The Santa Barbara Independent. Could I get a quick photo?" ​— ​and was promptly tackled by a publicist who came out of nowhere; security apparently was ratcheted up to DEFCON 5, post CrotchGate. "No! He's not doing that!" she shrieked, as though I'd asked for a lock of hair.
He was looking at me though, so I seized the moment, smiled, and said, "Sorry, didn't mean to break the rules." Poetry, I tell you. He looked deep into my eyes and said, "I'm so over those supermodels with their warm welcomes. Let's run away to Uruguay. We'll take my plane. And would you like this lock of my hair?" Okay, not really. Actually, he said, with that trademark dimpled grin, "I didn't know there were rules," then took a drag from his e-cigarette and reached for another drink. But the subtext was clear.
I rejoined my crew to bitch about overzealous publicists and slam a mushroom goat cheese tart before soldiering on. Marty was nowhere to be found, swallowed whole by the collective crowd, but Jonah was dead ahead. Defenseless. I moved in for the kill, only to find he was every bit as nice as he was in This Is the End (before he turns into the devil).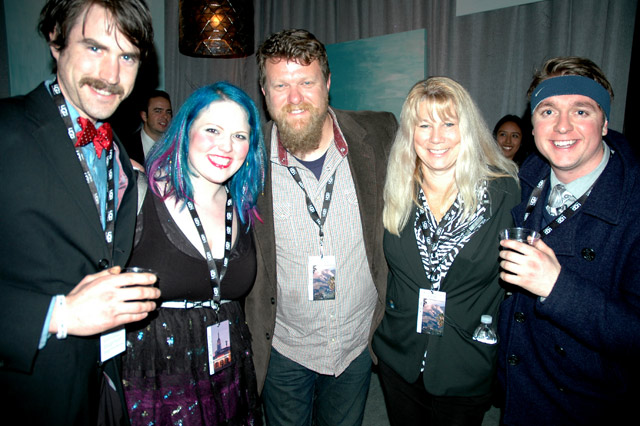 All in all, a win. I celebrated with a little cognac to warm my belly and sweeten my dreams, which were, indeed, of Uruguay.
The hits kept coming with Friday's tribute to Robert Redford. Self-possessed and unnervingly Zen, the 77-year-old (still blond!) actor/director/godfather of all film festivals held the crowd spellbound, as moderator Leonard Maltin did his best to cover the vast ground of Redford's career. "I'm curious about everything," Redford said, before Durling took the stage to present the award, as requested by the silver ​— ​I mean blond ​— ​fox himself. Emotional and eloquent, Durling spoke of growing up gay in Panama, struggling to find his place. Movies always inspired him, but Sundance was a beacon. Recalling the classic waterfall scene in Butch Cassidy and the Sundance Kid, Durling said, "To the man who taught me how to jump, I'm proud to say I can finally swim." Goosebumps.
Saturday night began with a screening of the super-buzzy The Broken Circle Breakdown, a gripping Belgian film about love, grief, fear, faith, and bluegrass that left me feeling like I'd been run through an emotional spin cycle. Afterward, the film's director and two stars dazzled the packed Lobero, singing us out of there ​— ​and onto the after-party at the UGG Pavilion, where peeps partied into the wee hours.
Sunday brought a screening of the acclaimed Before trilogy, followed by a chat with director Richard Linklater and stars (and cowriters) Julie Delpy and Ethan Hawke. Then it was on to the final party for a quick good-bye and an epic display of willpower on my part, when I resisted reciting the entirety of Dazed and Confused for Linklater's enjoyment. (I did not exhibit such restraint when I spotted a table loaded with shots of butterscotch pudding, however.) And while I failed to get out of there before midnight, I managed to get this in Before Deadline.