Film & TV
Review: RoboCop
Joel Kinnaman, Gary Oldman, and Michael Keaton star in a film written by Joshua Zetumer and directed by José Padilha.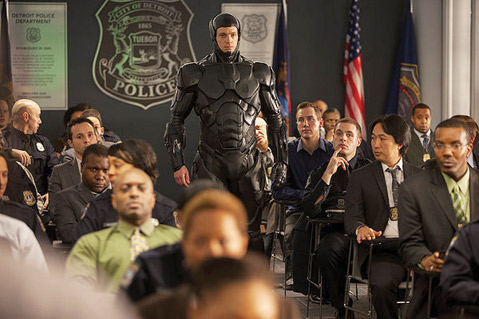 Most of the confusion that reigns over this movie gets previewed in its first five minutes. In fact, this PG-13 remake of Paul Verhoeven's hyper-violent 1987 dark comedy starts baffling us before the movie even begins. While the MGM lion roars, we hear the "mi-mi-mi" voice warm-up gargle of Samuel L. Jackson playing a Fox-type news commentator scolding America for its outdated "robophobia." This will be topical satiric farce, we think. Then cut to Tehran 2028 and a news report of America "pacifying" Iranian resistance to U.S. military occupation enforced with giant robots. Aha, we realize, this is actually meant to comment on our government's embrace of drone technology. Then, just as we smugly settle in, the film switches gears completely and becomes a cop melodrama, which eventually turns into the RoboCop origin story. By then we're wondering how long the movie will last because there are dishes back home to do.
It's a shame, too, since José Padilha's direction is crisply visualized with frequent brilliant touches, like a Lucian Freud man/machine triptych perched behind heartless Omnicorp CEO Michael Keaton's desk. What he gives us too little of, sadly, is what RoboCop fans want: a sci-fi extension of Clint Eastwood's Dirty Harry Callahan, with all those ambivalent pleasures. Padilha wants to make his RoboCop a timely discussion of remote-control repression — which is fine — but he preaches rather than illustrates. His robot-man is no fun, so who cares whether he's blown up or he bags some corporate oppressors.
Of course, disappointments preceded this release, which was originally meant to be directed by Darren Aronofsky and was at times attached to Michael Fassbender and Russell Crowe. But the cast is still solidly stellar: Gary Oldman, Jackson, Keaton, and Jay Baruchel are all good. But the movie they made isn't funny, scary, or thrilling. It's a message film with wise warnings but weapons set on boring.