Arts & Entertainment
Carp Author Rebecca Rockwell
A Fourth-Generation Carpinterian Writes Her Third Western Novel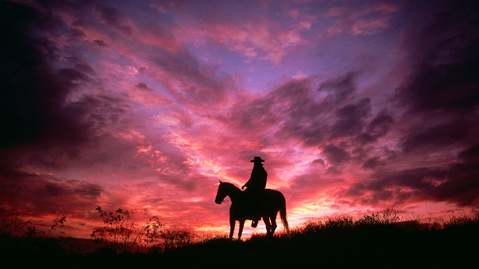 Women can do anything men can do, obviously. Just the same, not many write Western novels, even nowadays. "I can only think of two I like," said Rebecca Rockwell, a fourth-generation Carpinterian, who has written three. She wrote her first, In the Shadow of Death Alley, a novel about gangster Emmett Dalton, in three weeks. "It's funny; now, sometimes I pick it up, and there are things I just don't remember writing," she said.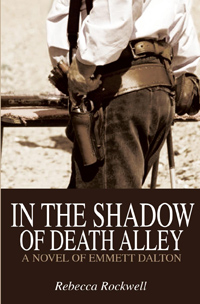 Her next two books took a bit longer ​— ​a couple of months each. Just in case you think she's just spinning out horse operas, pick one up: They're not books that pit imaginary Black Barts against chiseled upright sheriffs, either, though all have bullets and hooves flying, gallons of all-American blood, and sagebrush, too. "I do a lot of research on my books," said Rockwell, who delves through records while writing books about the Daltons, Jesse James's wife, Zee, or her latest about the Wild Bunch, consulting sources from the Library of Congress to Oklahoma Territory newspaper archives.
Rockwell is also a proud member of the Western Writers of America: "I'm going to their conference this year," she said, wistfully hoping against hope; she thinks her latest book ought to be considered there for an award or two, never mind whether she's a woman writing in a man's previous territory.
The Last Desperado, published by Outskirts Press late last fall at 540-plus pages, has a scope more epic than a shoot-out. In it, Rockwell revives her first antihero, Emmett, but concentrates more vividly on the life and times of Bill Doolin, a hard-working cowboy during the last phase of the Old West who unexpectedly runs afoul of a bristling "lawdog" and ends up becoming one of the most clever and most wanted men, robbing banks and trains to make ends meet and evening the score with the plutocrats grabbing settlers' lands. (Think Robin Hood with a revolver.)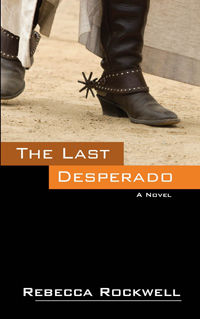 Rockwell's subtler triumph is letting us know where Doolin will ultimately end his days ​— ​and yet keeping us riveted, even after watching him gun down folks not exactly of robber-baron persuasion. If you didn't know the author was female, I doubt it would be hard to identify any theme that distinguishes her from two-fisted-brawling-cowpoke authors (Zane Grey is certainly more flowery). Although Rockwell's second book is told completely from the point of view of Jesse James's long-suffering yet thoroughly devoted wife, Zee, there is a nice balancing poignancy regarding Doolin's courtship, marriage, and family feelings that doesn't dilute the dusty-street standoffs. The existential aspect of the Western is safe in female hands.
Rockwell's command of Old West dialogue (sample: "'Well, I guess if he aimed to live on forever, I guess maybe this will do it,' he said.") is matched evenly by her pacing. The books weave between violence and home life, making it feel more real.
That a 33-year-old woman raised in a little beach town has written cowboy novels is more impressive when you learn that she's rarely left Carpinteria; even her genre reading is extremely limited. "I'm a horse lover," she said by way of explanation, "even though I don't currently have a horse. And I love history, especially all things Victorian. Besides that, I love Kevin Costner movies," she said, smiling slyly.
Rockwell was actually born in Van Nuys, though her great-grandfather settled in Carpinteria somewhere around 1874-1888; her grandfather left the ranch behind and opened Rockwell Cleaners in 1947, a place many Santa Barbarans frequent. Rockwell's father, Jim, initially wanted to move away from the family trade and got a teacher's credential and a job in Simi Valley (which is why the author was born in the San Fernando Valley — a preemie, her father said, who wasn't expected to live). But Jim "just missed the lure of Carpinteria too much," and the family returned to Carp in 1983 "when Becky was 2."
Rockwell was always a writer, and teachers encouraged her, said her father. But there was something more about her, a kind of obsessiveness that she readily admits and, depending on the time and the topic, can either amuse or exasperate her family. "She grabs onto something and writes and writes and draws about it," said her pop, who laughed as he cited a catalog of her interests from Richard Wagner's Ring Cycle to Humphrey Bogart, Les Misérables to The X-Files (the TV show is practically a taboo topic in her home). Rockwell cheerfully embraces all these things, and this fierce concentration explains how she writes cowboy books in a matter of weeks. (Her novels have never been anything more than proofread for spelling.)
Rockwell's novels are a combination of her love of Victoriana mixed with her love of horses; that is a legacy of her grandparents' lives on display in family heirlooms. She likes to say that her true muse is Costner because it was watching Wyatt Earp that flipped the switch prompting her passionate outpour. (She's never met Costner, who lives nearby, but hopes he might read her books, just to know what his work meant to her.)
Nonetheless, I got the sense that her family and her town meant just as much as the star of Dances with Wolves. The Rockwells are a family of readers, and she was named for the heroine of Daphne du Maurier's famed romance novel. Their family house ​— ​since sold ​— ​is on Carpinteria Avenue, a Victorian, and one afternoon recently she stood on a Linden intersection and pointed it out to me. She means to make a lot of money and get it back.
Rockwell also loves working with animals ​— ​she's the business manager at Santa Barbara Pet Hospital. She also wanted to be in the FBI once. "I'm really a goody two-shoes," she said. But writing was something that felt as if it had been decided for her.She loves writing dialogue, giving life back to someone gone. She gets a little sad after she finishes a book; she misses her characters. And she likes telling people how much she loves writing. "Usually people say one of two things. They say, 'You're a girl and you write Westerns? Awesome.' Or they say, 'You're a girl and you write what?'"