Arts & Entertainment
The Lobero Is Making Up for Lost Time
A Post-Lloyd Look Down the Concert Calendar
MIDWAY THROUGH THE JAZZ MIDWAY: Last Saturday night at the Lobero, the stars aligned and poetic justice prevailed, as reedman Charles Lloyd and drummer allies Zakir Hussain and Eric Harland mounted a long-awaited return of Sangam to the jazz-ambience-blessed room where it was born a decade earlier. Montecitan Lloyd has played this room countless times, in assorted contexts, but something special transpired in 2004 when he put this special, open-ended trio together in tender tribute to Lloyd's late drummer compadre Billy Higgins. Higgins, who died in 2001, spent the last few years of his life in close artistic accord with Lloyd and played with the saxist in the Lobero a few times, including marching up and down the aisles, in infectious, interactive New Orleans-ian style.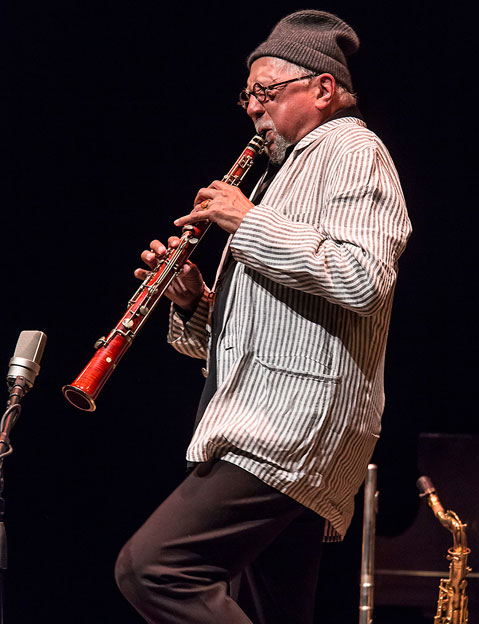 Sangam's 2004 Lobero night went "viral" and global when a recording of the show, captured by Santa Barbara Sound Design's Dom Camardella, was released on ECM, setting the template for a presumed one-off project that has been an international crowd-pleaser now for 10 years.
In the broader sense, the relatively short but also musically expansive Sangam evening was an affirming high sign amid an unusually dense and inspiring Jazz at the Lobero series, the third inspired jazz show in as many weeks — following the remarkable Spring Quartet and Pat Metheny's Unity Group. To boot, there are a few more strong jazz nights to come, including Friday's Newport Now 60 road show, Tierney Sutton's Joni Mitchell tribute on March 22, premier jazz violinist Regina Carter on April 22, Branford Marsalis on May 7, and Bill Frisell's unique John Lennon tribute on May 16. The Lobero has more than stepped up to the plate in this, its post-restoration hiatus, to make up for lost time and fill the formerly sagging jazz dance card in town.
For my money, despite the many values and virtues of Lloyd and Metheny's concerts, the most exciting evening came first, with the ear- and mind-opening Spring Quartet. To hear a virtually brand-new band featuring some of jazz's most prized voices — visionary drummer Jack DeJohnette, tenor sax master Joe Lovano, young multitalented wizard bassist/vocalist Esperanza Spalding, and newcomer worthy of further listening, pianist Leo Genovese — performing originals (and original originals) and allowing plenty of space for freely spontaneous invention, in the moment in this hallowed house, epitomized what makes jazz America's great music.
Newport Jazz Festival: Now 60, with a truly slouch-less membership of potent clarinetist Anat Cohen, trumpeter Randy Brecker, vocalist Karrin Allyson, pianist Peter Martin, bassist Larry Grenadier, and drummer Clarence Penn, represents a different kind of all-star confabbing, the subculture of road shows put together under the aegis of an important jazz festival. Santa Barbara has benefited from such groups connected with the Monterey Jazz Festival, and, via the San Francisco Jazz Festival, the SFJAZZ Collective. The venerable East Coast fest, which began and is again based in Newport, was founded by George Wein, who has steered prior Newport groups through Santa Barbara — including those featuring Cedar Walton and Lovano in the past dozen years.
My vote for one 2014 Local Hero, jazz division: Jose Lobero.
THE KIDS WILL BE ALRIGHT: Certainly, a high point of the 2013's otherwise lean jazz season in Santa Barbaran came in the form of Wynton Marsalis and his mighty, and nattily dressed, Jazz at Lincoln Center Orchestra, in concert at the Granada Theatre last March. Given his many visits to Santa Barbara over the years, Marsalis seems to like our paradisiacal town, and tab-paying patrons and audiences return the love. But when the great big band swings (sorry) through town next week, the public access will be quite limited — to a small gathering in a special UCSB Arts & Lectures fundraiser in a Montecito estate on Tuesday and a special Wednesday-morning show at the Arlington, for kids only — 2,000 of 'em. With shows like this, and the continued focus of the Lobero, the future of jazz is looking brighter by the second.