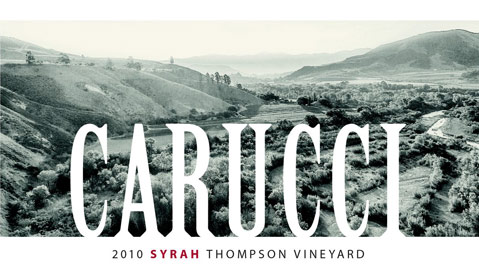 Carucci Wines Thompson Vineyard Syrah 2010: Like many a good garagiste winemaker, Orange County-based Eric Carucci's quest for winemaking started with asking lots of questions before only a trip to the vineyard to buy some fruit would deliver the answers he needed.
Today, Eric, whose day job is in finance, and his wife Lindsay, a teacher, make steadily increasing amounts of wines from traditional Rhone Valley grapes, including a soft peach/salted honey-imbued viognier and this 2010 syrah from Thompson Vineyard in the Los Alamos Valley, with an earthy, mossy nose that sinks deep into dark flavors like mocha and coffee.
They'll be pouring at the upcoming Southern Exposure weekend in Solvang, March 26-28, so see californiagaragistes.com or carucciwines.com for more info.