Theater
Metamorphoses Ever-Changing
Ensemble Presents a Modern Ovid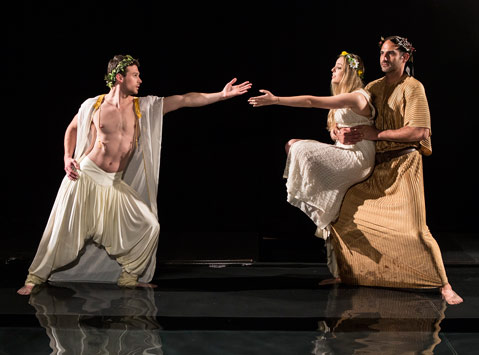 The Roman poet Ovid may be the single most fertile source of mythological inspiration in all of antiquity. His 15-book, 12,000-verse poetic masterpiece, Metamorphoses, refers to 250 different myths and has been a source for writers all over the world ever since it was first published in 8 CE. Next week, a 21st-century stage adaptation of Metamorphoses, created by the playwright and scholar Mary Zimmerman, will unfold on the New Vic stage as the third offering in Ensemble Theatre Company's 2014 season. Zimmerman is known for her uncanny ability to bring ancient myths to life in the context of the modern stage, and for this production, Ensemble artistic director Jonathan Fox will team with PCPA choreographer Michael Jenkinson on a highly physical and thoroughly new staging that's intended to top what has been done with this frequently produced show in the past. For Ensemble, this Metamorphoses represents the fulfillment of a dream that began when the New Vic was still in its planning stage, as the production will incorporate a large pool of water onstage, an element that would have been impossible to include back when the company's shows were staged at the Alhecama Theatre. Recently we spoke with Jenkinson about his work as the show's movement director.
You just came from rehearsal. What is happening now? We are jumping in and doing big pieces. We are building the arc.
I hear there will be a pool full of water onstage. Is that necessary? Yes. For the record, if you are doing this show, you need the pool.
How many people are in the cast? And will there be an original score? The show requires nine actors. And yes, we have the composer John Zalewski with us in rehearsal, and he is creating an original score right alongside us.
You are a successful choreographer, but for this show, you are billed as a "movement director." What's the difference? The movement director lives someplace between dance and theater. The show is abstract in some ways because the myths are presented in glimpses and episodes that come together to make a whole rather than following a single plot all the way through. Each actor plays multiple roles, and as movement director, working closely with the stage director, Jonathan [Fox], I take on different scripted moments and give them a visual presence. For example, there's a scene in which an older woman magically becomes younger, and I worked with the actress to find a physical movement to represent that transformation.
So then it's not like the kind of metamorphoses one ordinarily thinks of, where people turn into trees? Actually, at one point, someone does become a tree, so there's that, too. There are all kinds of metamorphoses in the show.
Are you using improvisation to create the movement in rehearsal? The ideas and the images we are using are mostly in the script, but I'm also working from the actors' impulses and letting those take us into the scenes. I wouldn't call it strictly traditional improv, but there are elements of it.
What attracted you to this production? I love it that Ensemble as a company is willing to bring rich, relatively unknown pieces to life. The [New Vic] theater is wonderful. It gives everyone the space to be comfortable as an audience member, but there's still not a bad seat in the house. One thing to know about this production though — the people seated in the front row will get ponchos because of their proximity to the pool.
What can you say about the cast? The cast is diverse in age, ethnicity, and experience, but what unites them is their ability to say "yes" to what's happening onstage. There are lots of big asks in this show. It is quite physically demanding. There's plenty of lifting, and we are aiming to make this the most physical production of Metamorphoses yet. It will be a uniquely Santa Barbara version of the play.
What do audiences need to know about the play in order to understand it? Remarkably little. The writing is so accessible and contemporary that it works for our 21st-century ears. The humor is easy to understand, yet there's no doubt that people will be really touched by the stories. And from the perspective of the visuals, it's powerful. A man with wings represents Eros, and it comes across as entirely relevant to our everyday lives. It's honest, and it taps into and reflects the loneliness that many people experience today.
What has it been like stepping into the position of movement director? This is the first time that I've done staging for a play like this. The collaboration is fun, and I enjoy working from language rather than from preset choreography and music. There's not a lot of ego in the room, which is great. We are all just pushing to find the best way to tell this story, and the only rule is there's no settling. "Good enough" is not good enough. Every bit of it should be great.
4•1•1
Metamorphoses runs Thursday, March 27-Sunday, April 13, at the New Victoria Theater (33 W. Victoria St.). For tickets and information, call (805) 965-5400 or visit etcsb.com.