Arts & Entertainment
Asif Ali Khan Makes His Santa Barbara Debut
Arts & Lectures Presents the Sufi Singer on April 3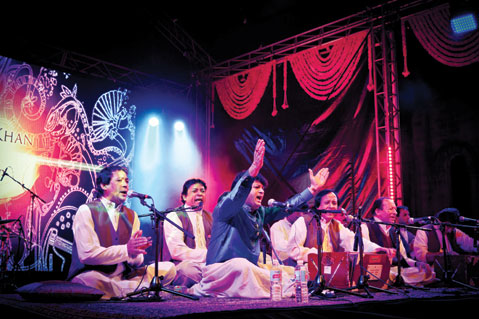 "Let's throw the truth away / We'll find it in this kiss," sang Bruce Springsteen in his 2002 song "Worlds Apart." The line sounds Sufi enough to have come from Khayyam, Rumi, or Hafiz. Even more so was the accompaniment, which came in the form of rhythmic, piercing laments, courtesy of Pakistani singer Asif Ali Khan. That great qawwali master, heir to the legacy of his teacher Nusrat Fateh Ali Khan, will be making his Santa Barbara debut at UCSB's Campbell Hall on April 3.
Khan's brush with American pop 12 years ago is not without irony. According to promoter Robert Browning, he is especially esteemed for maintaining the classical purity of his art at a time when drum-tracked, Bollywood semblances are everywhere. "What they're trying to show on this tour is that traditional qawwali in its contemporary form is the true qawwali, Browning explained. "So much qawwali is being performed now as kind of Sufi rock. These guys are really playing in a much more traditional style — a style similar to Nusrat, similar to the Sabri Brothers before him, but still developing their own particular characteristics."
If you have never heard the term 'qawwali' (kuh•wah•lee), it is no wonder. The traditional Sufi devotional singing is rarely if ever performed in our city, which is all the more reason to experience the real thing while you can. We tend to think of J.S. Bach's music as old (close to 300 years), but the qawwali tradition traces back more than 700 years. A qawwali ensemble, which is always all-male, includes a lead singer, in this case Khan, and a chorus of eight or so other singers and musicians, who accompany on harmonium, call-and-response, hand clapping, and drums. The singing may be in Urdu, Punjabi, or Farsi, all based on Sufi texts brimming with ecstatic longing for the Beloved or the splendors of wine (mystical metaphors, it is said). Khan himself has a raw energy and volume comparable to Romani or flamenco singers, a powerful rhythmic diction, and a gift for improvisation.
According to fellow Sufi practitioner and stage manager André "Snafu" Wowkonowicz, the quality of the performance depends on communication with the audience. "When Asif comes on the stage, there is some plan, [but] he will go completely with the vibration of the public," he explained. "One month ago, he gave a concert in Paris, and nothing happened — the public and Asif didn't make the connection. It depends. On a tour three years ago in China, Asif made five [curtain] calls, and the Chinese people were crazy about the qawwali. Three days ago [in New Zealand], the young people were kicking and dancing. Asif was so happy. When he's completely connecting, you feel it. You see the people connecting to the music, becoming more high, more high. Whether the people are in touch with the music is very important."
The popularity of qawwali surged in Europe ahead of the U.S., Khan said, speaking in Urdu as his brother (and harmonium player) Raza Hussain translated. "France, Italy, Germany, and so many other countries, as well, Holland, England — they've been searching for Sufism. They used to import the qawwals [singers] from Pakistan and India." In the U.S. the music was at first, naturally, supported by Pakistani and Indian audiences. "But they used to invite their friends to come over and listen," Khan said, "and now we trade."
Given that 13th-century Sufi Jalāl ad-Dīn Muhammad Rumi has been the best-selling poet in the U.S. for many years, non-Muslim audiences should have no difficulty approaching this music, right? "It doesn't matter," agreed Khan, "because Sufism does not rely on any religion. Sufism's for everybody because it gives the message of love, calm, and peace."
4•1•1
UCSB Arts & Lectures presents Asif Ali Khan in concert at UCSB's Campbell Hall on Thursday, April 3, at 8 p.m. Call (805) 893-3535 or visit artsandlectures.sa.ucsb.edu for tickets and info.