News
While Spring Cleaning, Thoughts Turn To …
Pondering Bike Parking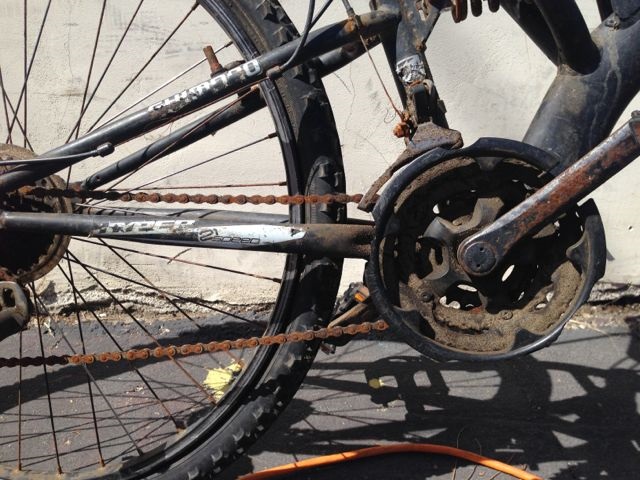 Spring is always in the air when you live in Santa Barbara. There is a touch of green on Figueroa Mountain after some long-awaited rain, birds are singing, and daylight saving time is here! If you live in Santa Barbara, there is absolutely no reason to put your bike away for the winter. But if you did or you just didn't find time to do the usual routine maintenance when days are short and mornings and evenings chilly, I've got some spring-cleaning tune-up tips. While I clean, I like to put on some music to scrub by and spend a few minutes pondering the kind of inexplicable questions I start to think about before falling asleep — and never answer.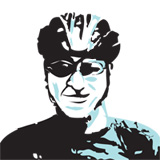 There can be a great sense of satisfaction from maintaining your own bike. A basic tune-up at bike shops can cost between $50-$75, a good value if you do not like getting your fingers dirty. If you're intimidated but want to learn, check out the Learn Your Bike classes offered by The Santa Barbara Bicycle Coalition.
Let's start with cleaning. If your bike is dirty, greasy, or covered in sand — take a few minutes and give it a through suds and scrub. Here's how from the column "Washing Your Bike" that I wrote last year. Your clean bike will sparkle when you ride in the Bike Moves May 1 Prom Ride and also extend the life of your components.
Cleaning your bike gives you a chance to inspect under the hood and look for cracks or other signs of wear that could cause future breakdowns. Here's my tip of the day: At least once a year, remove the seat post from the frame and wipe off any dirt. Wipe the inside of the frame where the seat post slides in, and, finally, apply a very small amount of good grease to the post and reinstall. The seat post on my beloved Austro-Daimler is frozen; I wish I had remembered to check it last year.
While I'm scrubbing and Ray LaMontagne is playing in the background, I've been thinking about bike parking. From Carpinteria to Santa Barbara to Goleta, new Bike Master Plans are focusing on improving our road infrastructure to get cyclists to where they want to go. But if we don't build bike-parking facilities, riders end up locking their bikes to trees, signposts, and fences. All of these alternatives are not as safe, orderly, or aesthetic as more bike racks and corrals.
Santa Barbara is close to approving its first bike corral on Canon Perdido near Sojourners Café. Another one is being discussed for the Funk Zone. A bike corral is a simple concept with huge benefits for cyclists and, more importantly, local businesses. Bike corrals are simply the replacement of an on-street parking spot with a bike parking area that can hold up to 12 bicycles.
Cities all across the country are focusing on bike parking. Chicago is promoting bike corrals as business friendly, and Sacramento is planning to add 10. Portland should get some applause and fireworks for recently announcing that the city had installed its 100th corral. My daughter, Danielle, tells me that 100 is yesterday's news. They have just installed corral number 105. Portland is struggling to keep up with the demand of businesses for more bike parking. Unfortunately, bike parking is often an afterthought in many cities, if it exists at all. Local businesses should want bike corrals because it economically adds parking for customers and employees that is accessible and safe. As a rule, bicycle parking should be clearly designated, visible, and close to the entrances of shops and businesses.
My bike is now clean, so it's time for a quick spring checkup.
Brakes: Check the brake pads to see that they are wearing evenly. If the pads are worn, it's probably time to get some brand-new pads. If the pads are okay, then squeeze the brakes, and check that they are hitting the rim evenly and at the same time. If not, adjust them now for smooth stopping power when you're descending Carrillo Hill.
Wheels: Clean the rims with a cloth and rubbing alcohol; beer won't work! Spin the wheels. Do they go around straight, or do they wobble? You can make minor adjustments to the wheel with a spoke wrench.
Drivetrain: A bike stand, friend, loved one, or child is helpful for this next step. With the bike off the ground, shift through all the rear gears. Shifting from gear to gear should be smooth. If it skips, try adjusting your rear derailleur. If this fails to correct the problem, your chain, cog set, and chain rings may be worn. The chain is the first to go. Chains last from six months to a year. If all is well, your bike will now shift perfectly.
Lubrication: Apply a good-quality chain lube to the chain — not WD40. It should be applied so there is an even coat on the inside and outside of each link and between the pins and rollers. Leave it on for a few minutes, and then wipe off the excess lube with a rag.
Tires: Check tires for splits, cracks, or tears in the sidewall. Check the tread of the tire for worn knobs, uneven tread wear, or excessive wear. Replace the tires if needed. There is nothing worse than having a tire blow out because it needed to be replaced.
Cables: If you keep your bike clean, you can use the same cables and housing for many years. Fresh cables make shifting and braking smooth.
Is everything tight? Check all nuts and bolts on the bike. Do not overtighten any of the quick releases or bolts. Done!
Now that your bike is clean and tuned, it's time for a ride. As you roll to your favorite frozen yogurt store, keep these numbers in mind; on average it costs less than $100 to build a bike parking space. Parking garages average $15,000. Wherever you ride, you should be able to get off your bike and find a place to lock it up so that you can walk on the beach, shop for an I Love Santa Barbara T-shirt, or go to a meeting or school. A clean bike with a well-lubricated chain and safe accessible bike racks is a winning combination.