Film & TV
Review: The Lunchbox
Irrfan Khan, Nimrat Kaur, and Nawazuddin Siddiqui star in a film written and directed by Ritesh Batra.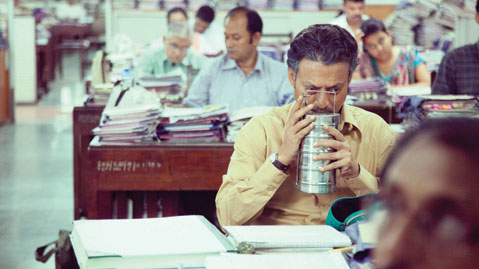 Along with the many virtues that make The Lunchbox one of the great subtle delights of this cinema season, the film also gains considerable points by virtue of what it isn't. Consider first-time writer-director Ritesh Batra's refreshing, old-school antidote to the sins of a modern cinema scene increasingly beholden to the incursion of smartphoned angles and new twists on old romantic tropes — even in the case of the artistic triumph, Her, whose love story on parallel, non-physical love makes for an easy comparison. The Lunchbox takes its time and lures us into its humane, anti-sensational world, in a way rarely seen in theaters near us.
In this disciplined, carefully constructed film, built on a narrative made of the stuff of a good short story, the power of slow-mo romantic inklings are conveyed through actual, handwritten letters between fate-mingled strangers and the virtually aromatic interactions of making and sharing food. (Spoiler alert: This is one of those films which may tickle salivary glands and inspire visits to Indian restaurants.) The crazed bustle and seemingly dehumanizing daily life in Mumbai, conveyed through frequent congested scenes on trains and trams, contrasts the economical tale of a young wife/mother (Nimrat Kaur) whose elaborately made lunches in shiny metal tins, mistakenly delivered daily — via the famed dabbawalas' well-oiled lunch delivery system — to a downtown urban clerical worker (Irrfan Khan, seen recently in Life of Pi). The plot thickens and gains hints of spice, to just the right savory degrees, to borrow apt epicurean references.
However dry the story might seem on paper, The Lunchbox is a surprisingly engaging film drawn from an almost-minimalist plot machinery, notable for what it leaves to the teased imagination. We never see our protagonist's auntie upstairs, although she is a strong and recurring presence, and we learn of her husband's philandering only through sniffed shirts in the laundry. Reflections on marriage and mortality sneak in from the corners of the story, often through the side plot of the worker's eager and respectful young replacement (Nawazuddin Siddiqui). More importantly, the long-distance slow dance of secret epistles and emotional sharing coheres into a precious, beautifully proportioned little feast of a film, delivered hot and fresh to our unsuspecting senses.