Arts & Entertainment
Coachella 2014: Friday Wrap-Up
OutKast is Back and Ice Cream is Pricey, Plus Day One in Pics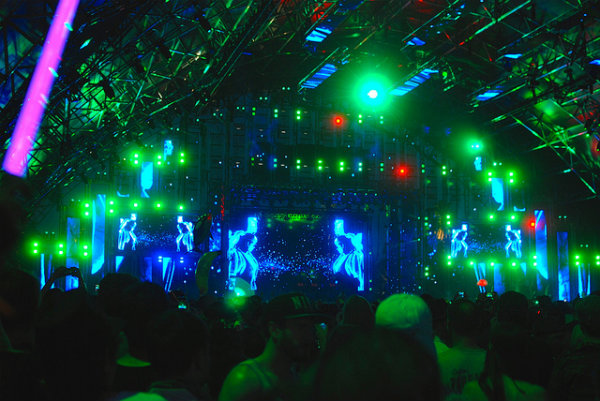 With day one of Coachella in the books, its difficult to properly reflect on an experience that essentially amounted to a lot of walking, looking around, and internal dialogue about whether eight dollars is an acceptable amount of money to pay for a biggish cup of ice cream.
The most incredible thing about Coachella is the scale: the stages are enormous, and the dance stages (or "rave halls" or "sex tents" or whatever the proper term is) are surrounded by giant LED screens playing succinctly timed visuals of vivid explosions and supernatural battles. It's an interesting thing, encountering this volume of people the Obama Administration has taken to calling "young invincibles." Take, for example, the mess that is sending and receiving texts/phone calls, simply because there's thousands of people trying to upload pictures of themselves at Coachella the same time.
It is, however, a consumer group that Goldenvoice — and really all brands in attendance — seem to have a knack for reaching. For the more discerning Coachella attendee, there is a boutique set up near the grounds' entrance, in between the record shop and the regular merch tent. Within it's walls you'll find four tiers of screen-printed posters. The most mundane go for $35; the most beautiful and rare fetch over $300.
Musically, yesterday's offerings were entirely diverse and exciting. Sweden's The Knife put on an incredible, multi-instrument production that featured choreographed dances and something resembling an alter-drum. However, most of yesterday's headlines were occupied by the reassembly of OutKast, who performed a set that felt entirely fitting of the moment, despite drawing harsh reviews abroad.
By the time Andrew 3000 and Big Boi took the stage (with Dre 3k tagging along and sporting some wonderful overalls), the polo fields were populated with tank-topped, sun-drunk, molly-fueled maniacs, nearly all of which flocked to the main stage to see the headliners' performance. Hipster jock-jams procurer Girl Talk did his best to garner similar media buzz, enlisting the help of Bay Area giants E-40, Too $hort, and Juicy Jay, who came out for a rousing rendition of "Bands Make Her Dance."
Bu Friday was Outkast's night, and the hour-and-a-half-long stand still traffic jam most attendees found themselves in proves it. For this Coachella virgin, it's all a bit too much to process. I know that I'll never be able to see everything. The hope now is that I'm simply able to see all the right things.
For more updates and a complete reflection and analysis, visit independent.com/coachella.
For all of Friday's photos, check out the gallery here.