Film & TV
Review: Oculus
Karen Gillan, Brenton Thwaites, and Rory Cochrane star in a film written by Mike Flanagan and Jeff Howard and directed by Flanagan.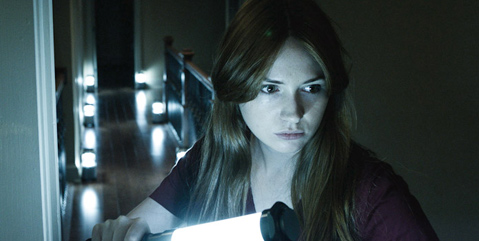 By turns creative and tingle-creepy, B-movie-esque and artful, the surprisingly fine Oculus is further proof that horror can be a forgiving and welcoming genre for directors with a low budget and good ideas in the tank. By the end of the plot-twisting and character-fusing saga, writer/director Mike Flanagan has made us feel as though we've been through something fairly epic and pumped up with angst-y emotionality. But really, he achieves a lot with a little, heeding the timeless horror-film archetype of not only the haunted house — a handy single location, ready to be exploited for its heebie-jeebie factor — but also, and more tellingly, a clearly haunted object.
Said ominous object at the center of the scary movie, a "home to a supernatural force," is an antique mirror (hence the optically inclined Oculus reference), tapping into both the mythologies of the mirror as an altered-visual field prism and as a window on parallel realities — possibly with demonic dimension. As we learn, through the clarifying efforts of a woman (Karen Gillan — and boldly played as a child by Annalise Basso) trying to clear her brother (Brenton Thwaites) of murder charges from their poltergeist-troubled childhood, the mirror has been responsible for multiple deaths and/or descents into madness over a few centuries. There are ghosts lurking in the antique, which is "capable of defending itself." Our brave protagonist stages an elaborate experiment to "out" the mirror, a kind of "rational" intervention for an anti-divine infestation which has taken over their father. ("I've met the devil, and he is me," he informs his kids at one advanced stage of his descent.)
In Oculus, the general rules and tools of the horror genre are in place, including the requisite number of "gotcha" surprises and crafty manipulations of sight and sound, through Michael Fimognari's cinematography, Flanagan's editing, and a coolly minimal and sinister score by the Newton Brothers. But things grow more cinematically complex, and the interest level deepens, as the clear delineations between past and present, here-and-now characters, and events and moments in their flashbacks begin to fuse and confuse. Suddenly, at key disorienting moments, we're in Memento land, alongside the slacker side of The Shining territory, and the head-gaming filmic notions only contribute to the power of this low-budget wonder in the creepy-flick annals.