Film & TV
Review: Transcendence
Johnny Depp, Rebecca Hall, and Morgan Freeman star in a film written by Jack Paglen and directed by Wally Pfister.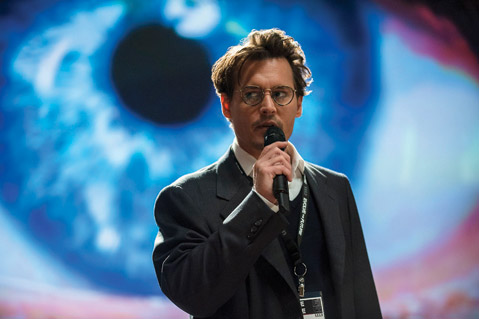 Ten minutes into this alleged blockbuster, you might start wondering why flashbacks from Ed Wood movies keep running through your head. It's subtle at first, but the clues are out there. Transcendence is the directorial debut by well-known cinematographer Wally Pfister (he shot Christopher Nolan's The Dark Knight trilogy), yet the pretty pictures don't seem to be helping the story along, much less lending us any pause for thought. Meanwhile, the rattle-brained plot inconsistencies start arriving in droves. Take, for instance, Johnny Depp's character, Will Caster, who's shot down by an anti-technology eco-terrorist and up walking around a few frames later, rubbing his belly as if he had bad gas. Not long after, he's dying, because the bullet that barely fazed him contained a rare killer isotope. This bullet, you recall, was delivered by terrorists who hate high technology but seem fine with chemical warfare. Later, when the battle to save the world occurs, you may wonder why there are only nine combatants and their hardware looks all army surplus. It's the little things.
Sadly, the message is even worse. The film sets itself up as a quasi-fable about a computer genius (played by Depp) who seems more real when he's reassembled on a screen than he does in his allegedly live performances. Then, right before he dies, he uploads himself and becomes one with the Internet. It isn't a dumb premise, and it might have further explored the fine line between life and code recently given brilliant treatment in Her. Or it might have gone all Terminator on us. Instead, Transcendence cancels itself out: Depp solves most of humanity's woes. The movie decides for us it's a bad thing.
Produced by Nolan and starring a host of first-string Hollywood actors who ought to have known better (Depp, Rebecca Hall, Morgan Freeman), Transcendence is a film that should never have been released, much less promoted. People say Ed Wood had passion but no ability. This film has a budget, stars, and a release date. Beyond that, it's transcendentally worthless.