Bottles & Barrels
All-Stars Winemaking Benefits Elementary Students
Second Annual "Legacy" Project Raises Money for The Family School in Los Olivos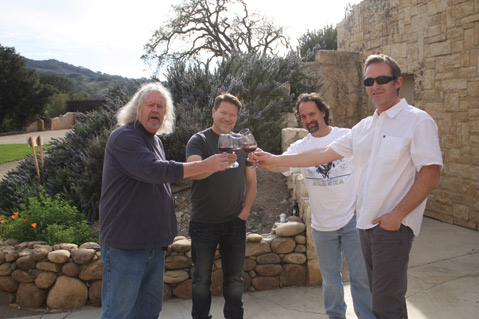 For the second year in a row, a veritable Justice League of winemaking superheroes — Jim "Superman" Clendenen of Au Bon Climat, Bob "Batman" Lindquist of Qupé, Morgan "Wonder Woman" Clendenen of Cold Heaven, Ken "Aquaman" Brown of Ken Brown, Frank "Flash" Ostini of Hitching Post, and so forth — are joining forces to support The Family School of Los Olivos, which many of their children attend or have attended in the past. To do so, each of the participating vintners donated a barrel of Rhône varietal wine, which Clendenen and winemakers Bion Rice (Sunstone/Artiste), Larry Schaffer (Tercero), and Mark Horvath (Crawford Family) blended into TFS Legacy Cuvée II. (Those not namedropped so far are Andrew Murray, Steve Beckmen, Joey Tensley, and Standing Sun's John Wright, the latter two of whom have kids currently enrolled there, along with Rice and Schaffer.)
The resulting 140 cases of the wine, which this year is 58 percent syrah, 17.4 percent grenache, 8.7 percent mourvèdre, 8.7 percent merlot, and 7.2 percent viognier, will be sold at $500 a pop during the Bounty of the Valley event on Saturday, April 26, at Sunstone's French-château-inspired Villa. "It will all sell out that night," said Rice confidently, noting that last year's event raised $60,000 in one swoop. As part of the live and silent auctions, there will also be 12 magnums and three nine-liter jeroboams, which Rice said are "basically a case of wine in one bottle."
The event, which costs $75 to attend, will also pit the Santa Ynez Valley's top chefs (Budi Kazali of the Ballard Inn, Brian Champlin of Succulent Café, Jeff Olsson of Industrial Eats, Clark Staub of Full of Life Flatbread, Robbie Wilson of Mattei's Tavern, and David Cecchini of Cecco) against each other for the title of "Best Slider." Those seeking an even more unique experience can, for $1,000 per person, attend a more intimate dinner on Friday night, April 25, in Sunstone's caves, or up the ante to $5,000 per couple for a two-night stay at the Villa, both evening events, a Saturday outing, and a case of the Legacy II.
"Obviously, legacy is what this is all about," said Rice, explaining that the winemakers' repeated donations are a true "testimonial" to the school's community impact. "We want to build a legacy for The Family School."
See syvfamilyschool.org.