Arts & Entertainment
Review: Danny Brown at Velvet Jones
RedEye Presented the Detroit Emcee on Tuesday, May 6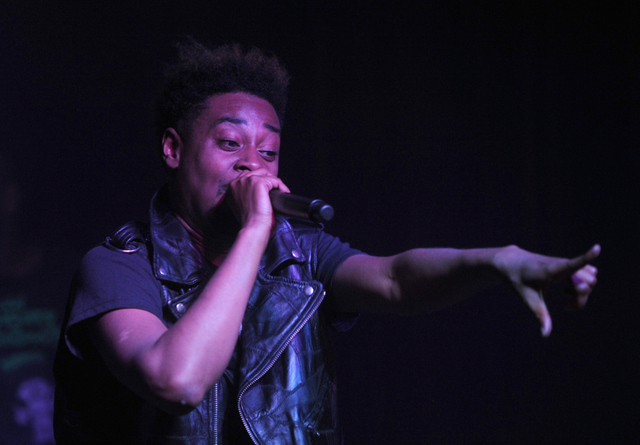 "How are ya'll so turnt on a Tuesday? What the fuck is up?"
These, the words of Danny Brown, appropriately captured the mood on Tuesday night, when the Detroit emcee stirred his audience into a moshing, sweaty euphoria at Velvet Jones — a venue Brown could have easily sold out two or three times over.
A unique persona and style have garnered Danny Brown more attention and accolades than most over the last three years; the release of 2011's XXX on Fools Gold Records walked perfectly in stride with the beginning of a revitalization of underground hip-hop.
On Tuesday, following supporting performances from fellow Detroit rapper ZelooperZ and Lakewood's Aston Matthews, Brown emerged wearing a black leather jacket and round, wire-framed spectacles.
"What the fuck is up Santa Barbara?" is a pretty uninspired way to greet any crowd, but Brown's subsequent introduction — "Hi, my name is Daniel!" followed by a slew of giggles — immediately endeared the rapper to everyone in the room.
What followed was more than an hour and a half of punishing bass lines, gang vocals, moshing, and, yes, laughter. There wasn't any posturing in Velvet Jones, and Brown never implored the crowd to "turn up" or to flip off the sky. Instead, he and Skywalker (Brown's longtime deejay) ran through their set with an incredible efficiency, sailing through tracks like "Blunt after Blunt," "Dip," and (a personal favorite) "Monopoly," sans any backing vocal track, with nary a lull in between.
Performance and musical magnificence aside, though, the fact that Brown's concert was moved to Velvet Jones from a larger venue within weeks of the date is entirely emblematic of a problem facing our music scene. As it stands now, contemporary artists visiting the 805 are faced with a dilemma if they're expected to draw crowds larger than clubs like SOhO or Velvet Jones can hold. Simply put, there isn't any place to host performers like Danny Brown, or (recent Ventura gets) Chvrches and Bonobo, and until an alternative emerges, performances like Tuesday's are only going to become harder to come by. Unless, of course, Danny Brown (or L.A.'s DJ Mustard and YG, who were similarly relocated to Earl Warren Showgrounds later this month) decides to do an acoustic set fit for one of Santa Barbara's several fully-seated, occasionally occupied theaters.