Positively State Street
Diplo, Local Natives Head Back to School
Extravaganza 2014 Returns to Harder Stadium May 18
FIELD DAYS: It's not too often I get nostalgic for college. The all-nighters, crap housing, and copious consumption never really were my "thing." Still, every spring I feel a little twinge of wistfulness for my days at UCSB and, more specifically, the crazy levels of hype that existed around Extravaganza. The annual year-ending, Associated Students–sponsored mini music festival always felt like the ultimate college concertgoing experience. The headliners were festival-worthy names, the product of a hefty lock-in fee and almost a year's worth of student planning. The event stretched all day long. The day was almost always sunshine filled. Did I mention the venue was also walking distance from my and all of my friends' respective houses?
This Sunday, May 18, the Extravaganza monster rears its tempting head for the 36th year in a row, and I'll be the first to say that 2014's crop of AS Program Board planners knocked it out of the park. Yes, Diplo is headlining. And yes, the bass is probably going to shake the ground all the way to D.P. But long before that happens, there's good reason to show up early. Isla Vista loveables Yancellor Chang and T-Fresh kick things off in the afternoon. They'll be followed by R&B songstress Jhené Aiko, rising hip-hop heavyweight Chance the Rapper, and L.A.-born harmony-rocking megawatts Local Natives. And yes, I know that much like Coachella, the idea of attending is far dreamier than actually braving the throngs of screaming, day-drunk masses. But everybody needs their fantasies, right?
Extravaganza takes place in UCSB's Harder Stadium this Sunday starting at 1 p.m. The event is open to students only. Attendees must have a valid UCSB ID to enter. For info, visit aspb.as.ucsb.edu.
THE POWER OF SONG: Speaking of Goleta, music, and youths, this Sunday, May 18, at the Deckers Outdoor Corporation Headquarters (6601 Hollister Ave.), the lovely folks at AHA! will host a concert for its after-school Sing It Out students. Every spring, the nonprofit conducts the Sing It Out mentoring program, which encourages teens to build character, work together, and grow socially and emotionally through music. This time out, the group is being led by sisters and singer/songwriters Tina and Laura Schlieske, both of whom are accomplished music makers in their own right. Tina is the gravelly voiced powerhouse at the helm of Tina and the B-Sides; Laura, a longtime Santa Barbara staple you may recognize from the group Area 51. And together, the siblings make some seriously sweet music that seems perfectly suited for the Sing It Out kids. The show takes place at 7:30 p.m. It will be preceded by a reception from 5:30-7 p.m. For tickets and info, visit ahasb.org/sing-it-out.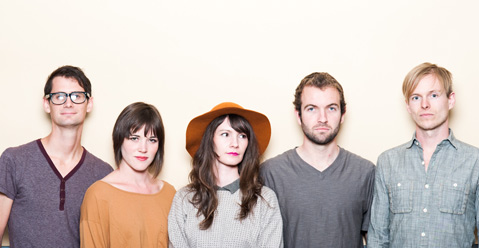 ALSO THIS WEEK: Santa Barbara folkies Ghost Tiger headline a benefit concert for the new dance education program Library Dances on Sunday, May 18, from 4-6 p.m. The newly launched endeavor is designed to allow students and pro dancers to collaborate on and create literature-based dance works (the first performance is May 27 at San Marcos High). As for the kickoff benefit, a $20 ticket gets you food, drink, dance, access to a silent auction, and a live set from the band. For info, visit librarydances.org.
On Saturday, May 17, R&B soulstress Mila J takes the stage at Velvet Jones (423 State St.) supporting Ty Dolla $ign, and while I'll gladly sing Ty's praises, this night may belong to Miss J. A young, stunning, and feisty presence, Mila is sure to bring equal parts sultry swagger and imposing vocal chops to her performance. And for a town that so rarely hosts strong female hip-hop figures, that's certainly something to head out early for. The show starts at 8 p.m. Call (805) 965-8676 or visit velvet-jones.com for tickets and info.