Theater
The Granada's Green Day
American Idiot Is a Punk-Rock Broadway Hit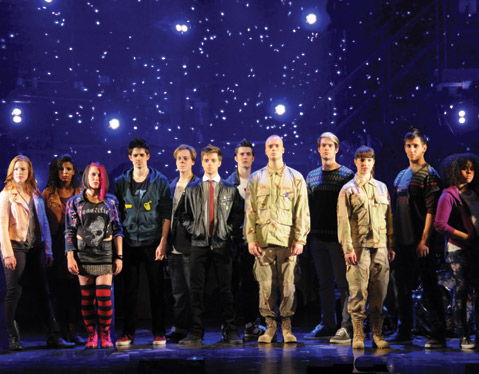 For most kids growing up with dreams of rock stardom, the road to success is a long one, and you tend to have to drive the van yourself. But now, thanks to the immense popularity of Bay Area punks Green Day and the theatrical imagination of Michael Mayer, the groundbreaking director who won a Tony Award for Spring Awakening in 2006, there's a new vehicle for taking guitar-hero aspirations on tour, and it will be pulling in to the Granada Theatre for one night on Wednesday, May 21. Green Day's American Idiot, the musical, is on national tour after a 400-plus performance run on Broadway. Over the last week, I spoke with two of the young rockers in the cast: Casey O'Farrell, a guitar-playing, rock-singing actor who originally hails from Nashville and plays Will, one of the show's three main characters, and Sean Garner, another rocker with acting in his blood who got his start right here in such Santa Barbara Civic Light Opera productions as Oliver! and The King and I, is a member of the ensemble, and understudies the lead role of Johnny.
"I had to bring my own guitar to the audition," said Garner, who once appeared in this paper as a member of the circa 2004 S.B. band Goodland. "If you are going to play Johnny, or even just understudy that role, they won't look at you unless you can actually shred," he explained, a fact about the show that was confirmed by Casey O'Farrell, who was also in a rock band before taking to the musical-theater stage. But as important as their guitar-hero credentials were to being chosen for the cast of American Idiot, chops are far from all that's required. "The show has definitely raised the level of my skill set across the board," said Farrell, who attended the American Academy of Dramatic Arts in New York before landing this part. Likewise, Garner sees Idiot as a perfect fit for his personal mix of talents. "At UC Irvine, where I majored in theater, I began by focusing on acting in dramas but then got swept up by the excitement there around such shows as The Wild Party, which I did as an undergrad," he recalled. After moving to New York, Garner, who still writes and performs original rock music, got bitten by the American Idiot bug after seeing the original Broadway production. "Halfway through the first act, I knew that somehow I would be a part of this show," he said. "It had everything that I love, and it was put together in a way that was just spectacular."
For O'Farrell, the most exciting thing about American Idiot is the spectacle. "The set won a Tony, the lighting won a Tony, and the cast album won a Grammy," he gushed. "This tour features a full production with all that vision intact. It's not like you're going to have a problem with feeling like there's nothing to look at."
Although the show's themes are quite dark — sex, drugs, and alcohol all play major parts in the plot's unfolding — the encore in particular sends the audience out feeling redeemed. "Anybody who loves rock and likes theater is going to have a great time," said Garner. For this one-night stand, Theater League is offering a special student rush price of $33 beginning two hours before curtain, which is at 8 p.m. And if Idiot doesn't sound like your cup of Broadway tea, never fear, as Theater League's Broadway at the Granada series will be back in 2015 with three more traditional shows — Guys and Dolls, Chicago, and Camelot — and subscriptions are on sale now.
4•1•1
American Idiot comes to the Granada Theatre (1214 State St.) on Wednesday, May 21, at 8 p.m. For tickets and information, call (805) 899-2222 or visit granadasb.org.