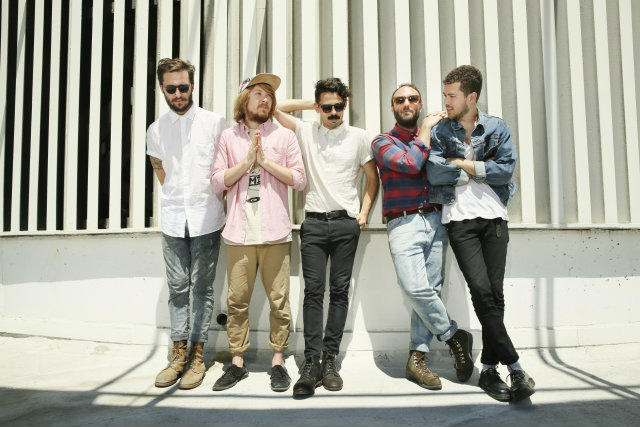 Local Natives' story begins back in 2005, when Orange County high schoolers Kelcey Ayer, Ryan Hahn, and Taylor Rice first met and started jamming. Post graduation, the three friends headed off to nearby UCLA, picked up bassist Andy Hamm and drummer Matt Frazier (bassist Nik Ewing came on board in 2012, following Hamm's departure), and started to fine tune their now signature blend of heavily layered, harmony-filled indie rock. In 2009, the boys unleashed Gorilla Manor, an urgent and sun-dappled debut that shone by way of big group sings and even bigger drum crescendos. The album and its subsequent critical praise pushed the Natives onto the world's stage, with international tours and festival dates following in quick succession. Early last year, the band returned to the fold with Hummingbird. Produced by The National's Aaron Dessner and cloaked at least partly in tales of loss, the record not only exceeded critical expectations — it proved the quintet could do moody symphonic pop just as well as they could pull off bright anthemic rock.
Following over a year of touring in support of Hummingbird, the L.A.-based road warriors are gearing up for a much needed break — but before they do, they'll head to Harder Stadium as part of this Sunday's Extravaganza. The free, students-only show at UCSB is boasting a heady mix of big name hip-hop and electronic acts (Diplo and Chance the Rapper round out the top of the bill), but its Local Natives who might be best prepared for arena-sized gigs. Fresh off a string of dates with Kings of Leon, bassist Nik Ewing talks to us about chill touring, college memories, and the allure of $20 mac n' cheese.
You guys just played a bunch of shows with Kings of Leon. How was the experience? I think being the opener for arena tours is the ideal slot for chillest touring. It was an interesting experience — actually some of the easiest touring we've ever done. We would soundcheck right before doors opened, leave our gear right where we left it, then play a short set, eat amazing catering, and try to get our ping-pong on in between all of that. It was our first experience touring for weeks on such a huge scale, playing basketball and hockey arenas — they have like a 70 person crew! It was good insight into this world that was so foreign to us before, and surreal to play some iconic venues like The [Los Angeles] Forum.
What's the biggest challenge in transitioning from opener to headliner (or vice versa)? We basically spent three weeks opening for them then finished with three weeks of headlining. It definitely was refreshing to do it in that order, to go back to your own environment where you can play all the songs you want to a crowd that knows all your songs. But it was fun and challenging to be an opener. You're trying to win over this huge crowd that's trying to find their seats and lite beer of choice. There could be hundreds of people in the nosebleed section losing their minds over our set, but the venues were so massive that you couldn't experience that energy as you would if you were in a club and they were all crammed right in front of you. We would actually "stack" the end of our set, so that when the venue was full we would be playing our "bangerz" to hopefully convert as much of the crowd as possible. Not to say the first half of set was weak, but it was an interesting new way to approach the flow of a setlist than the way we traditionally do.
Speaking of arenas, the show up here is UCSB's big year-end concert in their soccer stadium. I know three of you went to school together, so it seemed fitting to do some quick-fire higher education questions. What was your poor college student meal of choice? Mac n' cheese. However, I still religiously eat it, I just pay like $20 more because baking your mac n' cheese and adding breadcrumbs makes its more socially acceptable? I'm not arguing about it, though.
What was the best class you took in college (and why)? I'm probably going to sound like a dream college advertisement here. I was a business major, so had to take a lot of economics and accounting classes, but the best for me were some of the final classes where you analyze case studies and engage in these big, organized debates about whatever the case study homework of that week was.
What album(s)/song(s) soundtracked your college experience? Probably all of Radiohead. Hail to the Thief came out the end of high school for me and I vividly remember religiously listening to it for a year straight, especially in my car between classes.
Most embarrassing college moment? I was the one that didn't do the full on "college experience." I just slowly took a few classes every semester while working and playing music, so I dunno if I have a proper most embarrassing college moment. Maybe that's it then, that it took me seven years to get a bachelor's degree. Ha.
Biggest takeaway from your time in school? (Other than the diploma, of course.) Dream college advertisement part deuce: It's the time I grew the most, figured myself out.
Finally, you guys are co-headlining this thing with Diplo. Any thoughts or concerns about playing directly before Mr. Mad Decent? We released the stems to Hummingbird a couple months ago. He should remix one of our songs — we'd even tweet out his finished work.
411:
Local Natives join Diplo, Chance the Rapper Jhene Aiko, Yancellor Chang, and T-Fresh at UCSB's Harder Stadium this Sunday, May 18 for the 36th Annual Extravaganza. The concert is open to UCSB students only, and kicks off at 1 p.m. For info, visit the event's Facebook page.