Arts & Entertainment
Review: Extravaganza at UCSB's Harder Stadium
Chance the Rapper Stole the Show During Sunday's Students-Only Mini Fest
High school students nationwide were given yet another reason to attend UC Santa Barbara on Sunday, via the Instagram account of noted rhythm evangelist/Internet celebrity Diplo, headliner of 2014's Extravaganza. The annual single-day outdoor music festival on the field of Harder Stadium was organized in impressive fashion by the university's Associated Students Program Board (the assistance of which any area theater would be well-suited to explore).
Diplo, whose final set more than served its purpose in whipping the tank-topped coeds into a frenzied bouncing mosh, hardly felt like a headline amid a dynamic lineup that included Chicago emcee Chance the Rapper, Los Angeles' Jhené Aiko, and the folk-rock harmonics of L.A.'s Local Natives.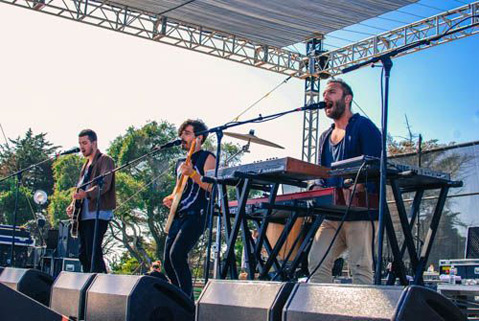 Aiko's set was entirely pleasant, and not only because of the shelter it provided from the deafening hype-machine trap-jock jams of predecessor DJ T-Sizzle (or something like that). The full-crowd sing-along of her verse on the Drake song "From Time" no doubt shed some light on how most in attendance discovered Aiko. Local Natives made the best of the unusual situation they found themselves in as the only band band on Sunday's bill. The quintet played a set of songs everyone was familiar with and then unleashed a full-on mosh by way of their 2009 track "Airplanes."
All of this being said, Chance the Rapper was undoubtedly the star of the Extravaganza. Despite having to cancel a show the night before due to sickness, Chance's energy was limitless (and sometimes even concerning); the chemistry exhibited between Chance and his band, The Social Experiment, felt more James Brown than Jay Z. Most of the songs performed on Sunday were from 2013's critically adored Acid Rap, with a smattering of tracks from 2012's 10 Day thrown in for longtime fans, and the result was a set stacked with more soulful sing-alongs than one could lift a lighter to.
It's difficult to identify any highlights from Chance the Rapper's set because each song was treated like a finale. To be frank, it's hard to imagine an artist caring more than Chance, which made the nonchalant nature of Diplo's headlining set all the more glaring. That's not to say that Diplo's performance was bad, just that no one is safe from unflattering comparisons when standing next to a sweating, yelping, dancing Chance — who walked offstage and started up an hours' long soccer game with his bandmates immediately after.