News
Insights into Isla Vista Shooter Elliot Rodger
SBCC Student and Sandpiper Golf Course Staff Relay Experiences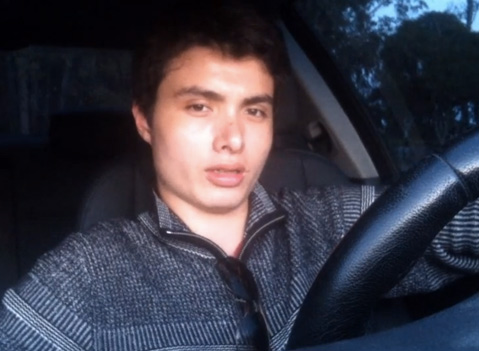 As Isla Vista and the rest of the world come to grips with the mass murder on the streets of the college town last night, there is a steady trickle of information emerging about the madman who killed seven, including himself: 22-year-old Santa Barbara City College student and I.V. resident Elliot Rodger.
According to his own blogs, videos, and social media postings, Rodger was born in the United Kingdom and moved to the United States when he was 5 years old, living in Woodland Hills and Calabasas, California. His father is Peter Rodger, who was an assistant director on The Hunger Games, a blockbuster film based on a popular young adult novel series about young people who are forced to kill each other for everyone's entertainment. The elder Rodger also directed a documentary starring Hugh Jackman, Seal, and David Copperfield called Oh My God that questioned the creation and interpretation of a divine spirit.
A self-described "Eurasian" thanks to a British father and Asian mother, Rodger attended Moorpark College before moving to the Santa Barbara area, but found trouble integrating with life in Isla Vista. "I have tried very hard to fit in with the social scene there, but I have ultimately been unable to do so," wrote Rodger, who had traveled the world extensively. "There are too many obnoxious people who have ruined my whole experience at that place." His family's attorney said that Rodger was in "multiple therapies." The attorney is also claiming that the parents told authorities about their son's videos weeks ago.
Insightfully disturbing are the series of 21 "selfie"-type videos he posted on YouTube, including one called "Elliot Rodger's Retribution" that can be viewed at the bottom of this story. In that, he describes the killings that he is planning to carry out just hours before doing so. Many of the videos feature Rodger speaking in a monotone voice, describing his loneliness and dislike for young couples in love and women who scorn him in general; others feature him driving around Santa Barbara, listening to 1980s pop songs by Whitney Houston, George Michael, and Phil Collins.
His words reveal a deeply pained and confused individual, caught up in his inability to attract members of the opposite sex. On one video, where he is walking through the parking lot at Sandpiper Golf Course in western Goleta while watching the sunset, he said, "My life is lonely and mundane. I have no friends, no girlfriends, no love, no sex. All I have is this, being able to walk in a beautiful place like this."
Oscar Trigueros, who works at the golf course, did not know Rodger but said that his now notorious black BMW had been frequently parking in the Sandpiper parking lot over the past couple of months. "The car would be parked there every now and then, just at the end of the day," said Trigueros. "But none of us recognized his face. "
On another video, he is looking out from his parents' balcony in what looks like the Calabasas area, reminiscing about his childhood. "I wish I could be a kid again. Those were the happy years," he said. "When you hit puberty, life either becomes heaven on earth or a living hell. It all depends on how many girls like you, or if girls like you at all. My life turned into a living hell. No girls liked me, and I hate them all for it."
Rodger took his misogynistic rantings to other websites as well, including a bodybuilding forum (where he also wrote, "I am a drop dead gorgeous, fabulous, stylish, exotic gem among thousands of rocks") and a chat site called Wizardchan that was apparently dedicated to sexual virgins. He also detailed his plans on that site, seemingly just hours before carrying them out. There have been at least two Facebook pages launched in "tribute" to Rodger, and they too are littered with misogynistic rantings.
George Duarte, a KCSB 91.9 FM radio deejay who goes by the name Xtek Overload, remembers Rodger from the SBCC Math Lab last fall. "He was always talking about the same thing, how annoying his roommates were, how he's gonna move to a different place," said Duarte. "He was constantly annoyed by people. Of course, when you're that type of person, no girl is gonna want to hear you whine and complain all day. "
Like many others, the tragedy reminds Duarte of the David Attias killings by car that rocked Isla Vista in 2001. Like Rodger, Attias came from a Hollywood family, his father being television director Daniel Attias. Duarte actually had a run-in with the younger Attias one day while walking on State Street, when the killer-to-be barked in his ear. "He scared the hell out of me," recalled Duarte. "But that cat was completely bonkers. This guy seemed more arrogant, a real arrogant cat."
In fact, Duarte remembers thinking that Rodger was going to excel in life. "Some of the stuff he said sounded right-on — he was very logical, very well spoken," said Duarte. "This kid is one of those successes. He's gonna go places. He had that aura about him and the ego to go with it."