World War II Historian Joseph Balkowski has observed that, when looking at monumental armed conflicts: "history can provide at least a little solace that there was some meaning to it all." The same may be true for literature. The literature of American warfare is a deep vein of treasure, with successive generations searching for meaning and making timeless contributions ranging from Stephen Crane's The Red Badge of Courage to Joseph Heller's Catch 22 and Tim O'Brien's The Things They Carried. Each of these books has become a classic, and while it is too early to heap such praise on Phil Klay's Redeployment, it can be said with confidence that the book has earned a place on the "new arrivals" shelf next to them. Indeed, this outstanding collection of short stories drawn from the war in Iraq seems to take its direct inspiration from The Things They Carried, offering stories from several different narrators and points of view that manage, in their totality, to provide a kaleidoscopic vision of the events of this long, brutal campaign.
Phil Klay graduated from Dartmouth, enlisted in the Marines, and was deployed to Iraq, serving a tour of duty as a Public Affairs Officer during the surge. It is from those experiences, both in the front line and in the rear, that Klay draws his material. Most of the stories take place in the war-torn provinces of Iraq, but as the title implies, a great deal of action also occurs back home in the United States as well, where soldiers struggle to adjust.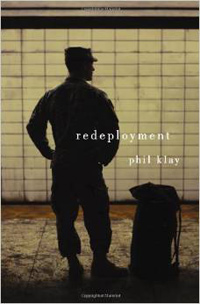 The title story, "Redeployment," addresses the feelings of profound dislocation head on, following a Marine Sergeant home from the battlefield to suburban life. The transition is not an easy one—here is how this Marine describes his life at home:
"In Wilmington, you don't have a squad, you don't have a battle buddy, you don't even have a weapon. You startle 10 times checking for it and its not there. You're safe, so your alertness should be at white, but its not."
"Instead, you are stuck in an American Eagle Outfitters. Your wife has given you some clothes to try on and you walk into the tiny dressing room. You close the door, and you don't want to open it again."
Although the laconic tone of The Things They Carried comes immediately to mind, it is another Vietnam era classic, Michael Herr's Dispatches, that seems to be its closest precursor. Klay's detachment recalls O'Brien's, but his vision is closer to that of Herr's grim, hallucinatory account. Klay's grunts hate the war, but they also secretly confess to loving the war. No matter how dangerous, maddening, and frightening the war in Iraq was, it was also vivid and real in ways that the soldiers find hard to reconcile with ordinary life. That internal conflict is at the heart of Klay's stories. One narrator, a war vet, expresses the dichotomy this way: "There's a perversity in me, that when I talk to conservatives, makes me want to bash the war, and when I talk to liberals, defend it."
Klay captures that brittle tension perfectly, and no matter how grim Redeployment gets, it remains a most rewarding read. Phil Klay has earned his stripes.