News
Map of the Mayhem
What Happened Where in Isla Vista on May 23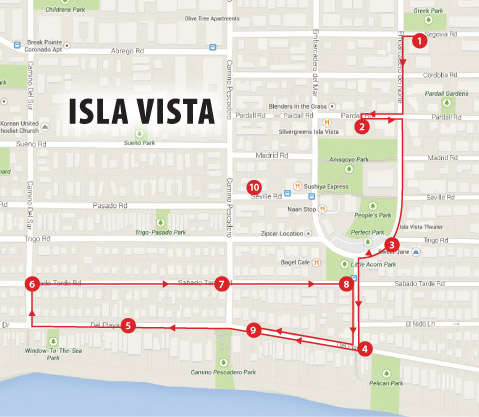 1. Elliot Rodger goes to Alpha Phi sorority on Embarcadero del Norte at Segovia Road and pounds on its front door for approximately two minutes. Refused entrance, he shoots three passersby, killing Delta Delta Delta members Katie Cooper (22) and Veronika Weiss (19) and seriously injuring another young woman. At 9:27 p.m., Santa Barbara County's emergency center receives a 9-1-1 call of gunshots fired at Segovia Road at Embarcadero del Norte.
2. Rodger gets into his BMW and drives to Pardall Road. He exits his vehicle, walks into the I.V. Deli Mart, and kills Christopher-Michael Martinez (20) at approximately 9:30 p.m.
3. He then drives south on the wrong side of the road on Embarcadero del Norte toward the top of the Loop while firing at pedestrians. Rodger shoots a young woman in the leg out front of the 7-Eleven.
4. He turns east on Del Playa Drive; fires his weapon, hitting no one; makes a U-turn and heads west on Del Playa; and engages in a firefight with Sheriff's deputies. As he flees, he hits a bicyclist.
6. Rodger turns north onto Camino del Sur and shoots and injures three people at the corner of Sabado Tarde Road.
7. He continues east down Sabado Tarde, hitting a skateboarder with his car and shooting and injuring a pedestrian at the corner of Camino Pescadero and Sabado.
8. He heads back toward Del Playa on El Embarcadero Road, at which point he and deputies engage in another firefight.
9. Turning once again onto the 6500 block of D.P., Rodger hits another bicyclist and then crashes his car. Sheriff's deputies pull his dead body from the car. The siege ends at 9:47 p.m.
10. Sometime after 9:47 p.m. and before the press conference at 2:30 a.m., police find the slain bodies of Cheng Yuan "James" Hong (20), George Chen (19), and Weihan "David" Wang (20) in the apartment where Rodger lived on Seville Road.
In total, Rodger killed six people and injured 13 — eight from gunshot wounds, four with his car, and one as a result of the melee during his homicidal spree. (As of press time, this is the most up-to-date assessment of what occurred during the night of May 23, 2014.) For a more detailed report, see "10 Minutes of Terror" on page 21.