Eat This
Veggie-Friendly Finds @ Sama Sama Kitchen
Tempeh Tacos, Mie Goreng, and Other Indonesian Treats at State Street Restaurant
Founded on family and friends, Sama Sama Kitchen introduced Indonesian food to Santa Barbara in March 2013. "We're the first Indonesian restaurant in Santa Barbara," head chef and owner Ryan Simorangkir said. "Because we're bringing something new, we try to tailor [our food] to our customers' taste buds." And that includes vegetarian diners, as Sama Sama offers a number of exciting non-meat dishes.
The Tempeh Tacos, for instance, were an instant hit. "These are definitely not traditional," said Simorangkir about these colorfully charming tacos, which consist of sweet tempeh, cabbage, garlic, and shallots, all flavored with peanut sauce, tamarind, and chili, and stuffed into a fried wanton wrapper shell. It's a sweet treat to start off your meal, with the tempeh almost tasting like candied nuts.
While it may seem strange to find tacos in an Indonesian restaurant, general manager Mike Easbey maintains that they are one of the restaurant's most popular dishes. "People who eat meat want the Tempeh Tacos," he said. "It's really its own thing."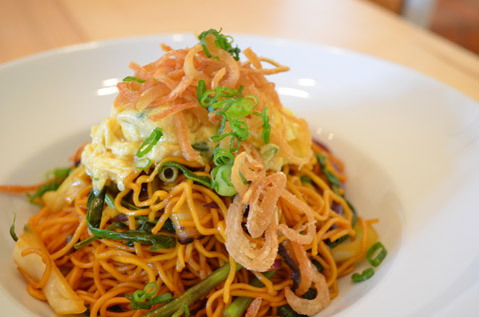 For something more authentically Indonesian, the Mie Goreng is a stir-fried noodle dish that combines thin noodles with locally sourced vegetables like ong choy, shiitake mushrooms, cabbage, and chives. Soy sauce, Sriracha, chili, and garlic complete this piquant dish, which is topped with a soft-scrambled egg. "This is a standard Indonesian stir fry, which we can cook up in two minutes," said Simorangkir, which means you can expect fast service when you order it.
Although these dishes have stayed the same since first opening, the restaurant has made some changes to its dining room, adding a tiled floor, new lighting, and communal tables. "It's brighter, friendlier, and a lot more open," said Simorangkir. "We've added these communal tables for diners to meet new people. That's how Indonesians eat, on the street together."
According to Easbey, Sama Sama Kitchen is focused on a communal dining experience through sharing food around the table and sitting next to people you don't know. Guests can rent out the back patio or even the entire restaurant for events. "It's really fun because when you rent out the whole restaurant, you have control of the kitchen and can tell our chefs what to do," said Easbey. "You don't have to stick to our menu."
4•1•1
Sama Sama Kitchen is located at 1208 State Street. See samasamakitchen.com or call 805-965-4566.