Bottles & Barrels
Mesa Memories of Chris Whitcraft
Remembering the Winemaker, Friend, Neighbor, and Co-Founder of This Weekend's Santa Barbara Wine Festival
Sometimes lives intertwine by chance. People become friends because they keep getting thrown together by lovely versions of random luck. It helps if the people enjoy each other's company, but their very lives seem to create the bond. The sad part comes when the same fates break things up unexpectedly.
Chris Whitcraft and I met in 1970 when we were young party coconspirators. Barely out of high school, Whitcraft belonged to a smart gang of guys and girls who moved up here from Palos Verdes with not much more on their minds than fast talk and laughter. Chris was always funnier: smart and quick to point out hypocrites.
Being younger, I was only able to host the PV crew when my parents foolishly left their house in my care. Later, we all got our own places, establishing a network from Montecito to Isla Vista of strategic crash-pad party sites.
In this group, Chris got semi-responsible first: Becoming a wine guru in a kegger age, he held down the most reputable, enviable job of all — the cool guy at Montecito's lush Mayfare Wines store. He pioneered what I've come to consider the blessed hedonist streak hidden in the pretenses of viticulturalists. He would steer you to Heitz Cellars Martha's Vineyard as well as to Liberty School's cheap exquisite reds. I saw him pluck fun from the jaws of snobbery, knowing what wine was really about.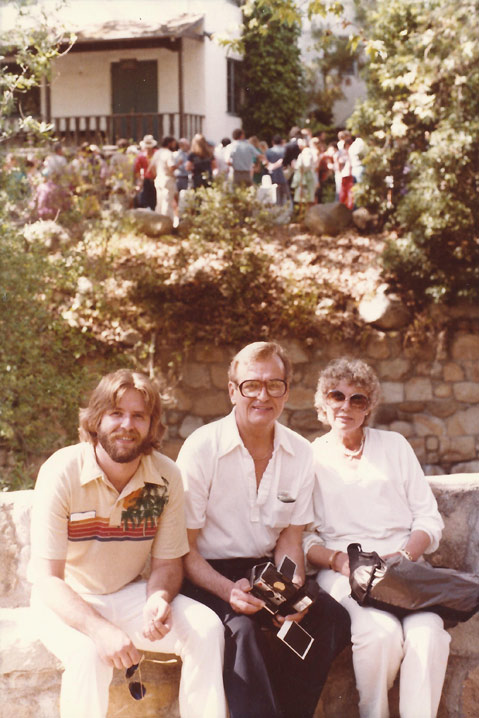 Later, when Chris and his then wife, Kathleen Barnato, moved next door to my parents on what was then still the unfashionable Mesa, he made a neighborly visit. Flabbergasted (and freaking out my dad), he said, "I always wondered where this house was. I had a good time here."
My own family eventually moved into the Mesa home, and Chris and Kathy became neighbors. Our kids were in each other's houses, we threw simultaneous Fourth of July parties, though obviously one wanted to be on the Whitcraft porch, especially after he began opening bottles of his own wines. It was at this point that the serious party dividends paid out, when Whitcraft began exploring the idea of a winery without vines. He wasn't the first, but he was among them, and the bottles I drank in those days were remarkable and delicious. "I make user-friendly wines," he always said. And I always thought that it was true, but truly inadequate, because his wines had extraordinary dimensions, informed by his wit and his commitment to hedonism.
It's not a sarcastic remark. Too much of our world depends on postponing gratification if not repressing it entirely. Whitcraft liked fun and disrespected false pieties, including the kind practiced by wine snobs.
I remember he won a national water tasting contest by identifying Santa Barbara tap water, which he could smell a yard away. It was funny, but I never doubted it. Chris could be precise and withering, but his best quality was the warm welcome below the gruff look. He was proud of his children, Drake and Alyssa, and he worked hard at enjoying his life.
I'm going to miss him in my neighborhood for a long time. The destiny that spirited him away seems random, premature, and cruel.
More Chris Whitcraft Memories
"Homemade" Chardonnay to Horseshoe Partners
By Blake Brown
I was first introduced to Chris Whitcraft in the 1980s through a chardonnay he made before he was bonded. It was gifted to me from a patient of mine who knew Chris and had acquired some of his "homemade" chards. It was cloudy and weird colored and had no label or identification. It was just simply spectacular and changed my perspective on unfiltered and unfined wines big time.
Shortly afterwards, I met Chris and shared my delight with his wine only to find out he was just releasing his first Whitcraft Winery wine, the 1985 chardonnay. I was immediately a fan and have been ever since as I have bought numerous wines from his mailing list, many of which I still have in my cellar.
Chris became a friend as well as one of my go to producers along with other favorites, Jim Clendenen, Bob Lindquist, Rick Longoria amongst others. Chris joined a wine tasting group I was and still am involved with and instantly became the joke teller par excellence. We all loved his ability to share humor and wit and storytelling skills.
His creativeness showed up with his personalized license plate which read PNONV as in "Pinot Noir envy" and in his Whitcraft Winery t-shirts claiming, "Pinot Noir is just not for breakfast anymore"
Over many years, Chris and I frequented the annual Foxen May Party and he was my perennial horseshoe partner. We did not win many, but none had more fun. We even got serious enough to throw shoes at his home on the Mesa after hitting golf balls into the ocean from his backyard. Occasionally, a horseshoe would make its decent over the bluff too. We were not that great, but we had heart.
Another annual treat for Chris and I was to do the 4th of July with Burt Williams [of Williams Selyem fame and a mentor of Chris] at Burt`s home on the Riviera overlooking the harbor where the fireworks display could be clearly seen. Need I say, we drank well with both contributing many of their wines.
Perhaps the greatest gift in knowing Chris comes from knowing his children, Alyssa and Drake. They are beautiful people and both quite accomplished in putting their lives together in a meaningful way. What a joy it is to see them grow up over all of their years and evolve into making this a better planet.
I am very grateful for having Chris Whitcraft as a friend and he shall remain such for the rest of my life.
Encapsulating The "Chris Experience"
By Ken KirkPatrick
In our early 20s, Chris had a sports car whose loose hood required occupants wear a hard hat. We made night caravans to Caliente Hot Springs. There were late nights and intense after work (Mayfare), pre-Whitcraft wine tasting at the Los Patos house (whose residents cooked burgers on a George Foreman grill), as well as the Canada house, Arden, La Plata(s), Lomita family, BBQs, tournament darts, friends, hard work and success with the participation, support, and loves of his life Kathleen, Alyssa, and Drake. I can recant many stories, conquests, teenage struggles, double secret probation, Ampex reel-to-reel recordings, ping-pong table swimming pool parties.
One 'imprint' moment from a '70s afternoon pour in S.B. with three friends, mixing beer, whiskey, emotions, and hormones on the bluffs above Hope Ranch beach was after the perfect combination of discourse and drink. I remember sincerity, clarity, honesty, and tears, and the eventual need to get the three of us home safely.
In my last month with Chris, we revisited our past; his 50th birthday in the Mesa House and about our friends, our friendship, and the love we had as brothers. We remembered the Hope Ranch afternoon recently. I told him I remembered he, Richard, and I getting so intensely conversant and emotional. I remembered us all crying that afternoon. Chris claimed, "Do you want to know why I was crying?" It was because in trying to get me to the car he fell backwards and broke the bottle of whiskey in his back pocket.
Chris was much like his wine — zesty, intriguing, complex, a bit nutteeee — but sadly and, uncharacteristically, before his time.
4•1•1
The Santa Barbara Wine Festival is Saturday, June 28, 2-5 p.m., at the Museum of Natural History (sbnature.org). A memorial for Chris Whitcraft takes place Sunday, June 29, noon-6 p.m., at Skofield Park. Donations can be made out to the Chris Whitcraft Memorial Fund at the Scholarship Foundation of Santa Barbara, PO Box 3620 93130.
Chris Whitcraft Memorial
Memorable Stories and Wines
By Blake Brown
A Celebration of Life for Chris Whitcraft was held on Sunday, June 29, in Santa Barbara`s Skofield Park on a beautiful bluebird day with hundreds of friends and family in attendance. Chris`s son, Drake, and daughter, Alyssa, with help and a lot of support from their friends and their mother, did a fantastic job in putting it all together and making it an epic occasion.
It was truly a magnificent day, one that served to remind all of us of the importance of honoring those meaningful people in our lives while still in the physical form, both theirs and ours.
Countless memories and special moments were memorialized by photographs and remembrances as well as by special bottles of wines. The potluck reached huge proportions with overly stocked tables of foods to complement the BBQ prepared over the pit. Just to make sure all was being handled properly, Frank Ostini of the Hitching Post and the King of BBQ checked out the grilling and offered welcomed advice.
The ever-changing crowd and its arrivals and departures had so many fine winemakers, both local and from outside of the area. Many got their start in the early 1980s, and many have more recently arrived on the scene. There were also numerous wine collectors, reps, and wine shop and restaurant owners, many of whom are personal friends.
So many wines were brought, many made by Chris, that by midday the lineup of all the empty bottles filled two very long shelves in the "wine room," which still had a large table full of yet-to-be-emptied bottles waiting for a position on the shelf. We had large-format bottles [1.5 liters up to 6 liters] and regular 750 ml. bottles, many of which were supplied by Drake, who succeeded his father as the winemaker and has been doing his own superb thing under the Whitcraft label since 2007.
At the risk of leaving some out, the winemakers included: Burt Williams of the original Williams Selyem; Margi Wierenga of Brogan Cellars and Burt`s daughter; Dick Dore and Bill Wathen of Foxen; Rick Longoria of Longoria; Greg Brewer of Melville, Brewer- Clifton, and Diatom; Steve and Chrystal Clifton of Palmina and Brewer- Clifton; Frank Ostini and Gray Hartley of Hitching Post; Bruce McGuire of Santa Barbara Winery and Lafond; Benjamin Silver of Silver; Bob Lindquist of Qupe and Verdad; Craig Jaffurs and Dave Yates of Jaffurs; Matt Brady of Jaffurs and, along with Drake, Amis; Seth Kunin of Kunin; Fabian Bravo of Brander; Art Morel, Antonio Gardella, and Sid Ackert of artisan local home wine-making renown, Campaneros.
It should also be noted that Drake is an accomplished guitar player, and with a little help from some friends, a couple of whom played with his father in a band called H2S many years ago, he played a few tunes. In case you do not know, H2S stands for hydrogen sulfide, aka that rotten egg smell. For one known for his wit and humor, it would be my best guess that Chris was the one responsible for that name.
This was a rare occasion for me, as I usually take copious wine notes of all or most of the wines opened. This day, I chose to simply enjoy the celebration, friendships, sharings, horseshoes, music, and food. Almost. I did take mental notes of some of the standout wines. As it`s said, "It`s like being a little bit pregnant". I guess I`m a little bit addicted. Here are a few:
1992 WHITCRAFT BIEN NACIDO Q BLOCK PINOT NOIR- 3L: Fabulous; evolved with nice balance, the typical pepper, cinnamon spice layered fruit profile, nice acidity and good mouthfeel; one of my favs from Chris over many years.
1996 WHITCRAFT HIRSCH PINOT NOIR- 3L: in the tradition of Hirsch, this had that spicy, chocolate, licorice black cherry that goes on and on and was another gem throughout all of years Chris got his fruit through Burt.
1995 WILLIAMS SELYEM OLIVET LANE PINOT NOIR- 1.5L: Stunning; still youthful and brilliant; light red color, lightly spiced cola-infused strawberry cream soda without the spritz; so easy on the palate and beautifully balanced.
1995 WILLIAMS SELYEM HIRSCH PINOT NOIR- 1.5L: Shinning with serious chocolate and licorice red and black fruitiness, nicely integrated. complexity with layers of depth and wonderful length; smooth and velvety on the palate.
1994 WHIT`N POST PINOT NOIR: Made by Frank Ostini of the Hitching Post and Chris, the classic label was created by Chris as a play on The Allman Brother`s "Whipping Post" and included the last line of the lyrics, "Good Lord, I feel like I`m dyin"; Frank`s wife, Jami, did the graphics, and his partner in the winery, Gray Hartley, brought two bottles, one for Drake and the other to share; what a treat; it was quite viable with pleasant tertiary flavors, only slight bricking and a softness and easy to enjoy along with the creative label.
1995 WHITCRAFT PETITE SIRAH: Made from Joe Carrari`s vineyard fruit and a wine Chris dreamed of making for a few years before doing so; double decanted for 4 hours with a ton of sediment removed; if I had not brought it, I would have thought this was only a few years old; dark black purple color; teeth-staining inkiness; full bodied, complex, and majorly vibrant; a hit of spice and pepper and tar along with a lot of black currant, black cherry, and unsweetened black mission fig and a finish, as Chris stated in his review in the release notice, "forever."
Okay, enough for now.
Final comment: I deeply regret the loss of Chris and trust he`s in a better place now and happier for it. And so, for Chris, I use the remarks he stated in one of his newsletters in 1998 regarding the death of friend Dick Graf, founder of Chalone and cofounder of American Institute of Food & Wine along with Julia Child and Robert Mondavi, "wherever he is now, I have no doubt the food, the wine and the music are sure to be incredible."