Theater
Looped Coming to the Vic
New Ensemble Show Depicts Tallulah Bankhead
Long before mesmerizing human train wrecks like Lindsay Lohan or Paris Hilton were even born, there was Tallulah Bankhead. The actress and personality was the original "it" bad girl, born into a prominent Alabama family (her father was a U. S. congressmember and, from 1936-1940, Speaker of the House. Bankhead left the South as a teenager to take up residence at New York's famous Algonquin Hotel, where she lived and attracted attention while working her way up the ladder as a Broadway ingénue. Although her outrageous candor and prodigious appetites manifested early, it's the middle and later years of Bankhead's life that have done most to make her a legend. It was Bankhead's unmistakably deep, bourbon- and tobacco-cured drawl that actress Betty Lou Gerson imitated when she created Cruella de Vil for Disney's 101 Dalmatians.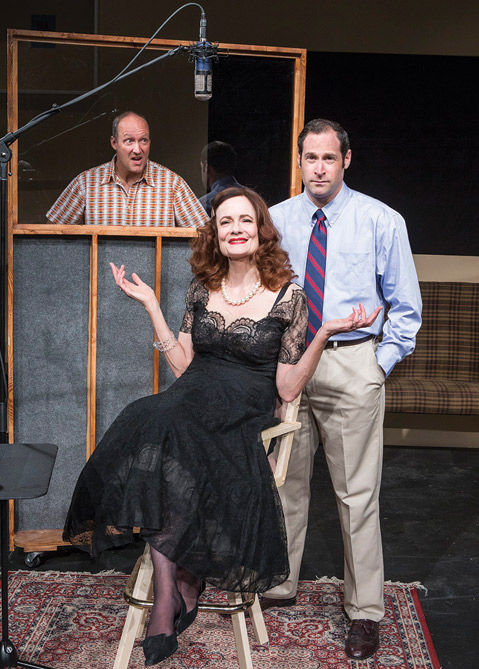 While most impressions of the great Tallulah have amounted to little more than cartoons, Matthew Lombardo's comedy Looped uses a specific episode from the actress's real life to ground his characterization of her in something much subtler than animation or slapstick. Bankhead experienced most of her success as an actress onstage rather than in the movies, where she rarely found her version of a comfort zone. (For a notable exception, check out her award-winning performance in Alfred Hitchcock's Lifeboat. In conjunction with the Santa Barbara run of Looped, Ensemble Theatre Company will present a free screening of the film at the New Vic on Monday, July 14, at 7:30 p.m.) Late in life, with bills to pay and few alternatives, Bankhead starred in a string of low-budget horror films, the final one of which was something called Frantic (in the U.K.) or Die! Die! My Darling! (for its U.S. release). Summoned into the recording studio after the conclusion of filming, Bankhead was asked to record or "loop" some lines of dialogue by lip-synching to her own image on-screen. Somehow this took longer than expected — much longer — and the tape recorder in the studio was rolling the whole time. Matthew Lombardo came into possession of this audio artifact, and, after due consideration, thought there was a play there. Looped dramatizes and condenses into a two-act show a daylong confrontation between a drunken, drugged-out Bankhead and the film's sound editor and engineer who coaxed her through the session. The jokes fly from start to finish, but beneath the rip-roaring surface, there's a whole other game being played.
"The editor, who is quite buttoned-up, poses a challenge for her," said director Glenn Jordan in an interview last week. "She's trying to entertain him, but she's also digging, looking for what's beneath that uptight exterior." Diane Louise Salinger, who will play Bankhead, is enjoying the experience of working on a character with no filter. "She turns everything on its head," said Salinger. "When I think about why she has become such a legend and try to understand what has made her so loved, I keep coming back to the idea that she was one of those rare types who are capable of giving themselves over to the spirit of Dionysus, the god of theater and of drunken ecstasy." Jordan points out that the play tells Bankhead's story in a relatively conventional way, yet because of who she was and what she liked to say and to do, there are "surrealistic moments."
Although the play is a full-blown comedy — Jordan compares its rhythms to those of Neil Simon — there's a serious point to it, and a heart. "Tallulah thought that life was a joke," said Salinger, "but then the secrets come out." Sophisticated comedy of the sort that Bankhead pioneered, along with such collaborators as Noël Coward, has long been a staple of the stage in Santa Barbara. Here's to a new play that's willing to embrace it.
4•1•1
Looped is at Ensemble Theatre Company's New Vic (33 W. Victoria St.) Thursday, July 10-Sunday, July 27. For tickets and show times, call (805) 965-5400 or visit ensembletheatre.com.