News
Council Intervenes in Hedge Spite Bite
Height Ordinance Tweaked to Limit Number of Revenge Complaints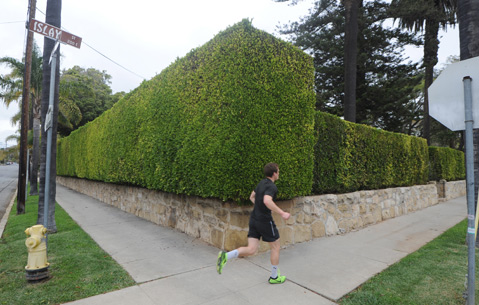 The Santa Barbara City Council attempted to fuss a new hedge-height ordinance into submission by limiting the impact of "spite" complaints filed by individuals not immediately affected by the hedges complained about. Ultimately, a council majority agreed that anyone had standing to complain about hedges that blocked the view of oncoming traffic or posed a similar safety concern. Beyond that, the council agreed city zoning enforcement officers would not take enforcement action in response to complaints filed by anyone living more than 300 feet from the offending hedge.
The issue was germane because six years ago, one Riviera resident filed as many as 20 complaints against property owners throughout the city, which had the effect of bringing enforcement of the city's antiquated hedge, wall, and fence height ordinance to a screeching halt. The resident in question contended the rules had been selectively applied and that if she was to be penalized, so would others who were equal or worse offenders. This spate of spite complaints, however, has not occurred since, and city planning officials argued unsuccessfully against limiting complaints. In the meantime, the council has also liberalized its rules, allowing substantially higher hedges and walls than the previous ordinance adopted in 1957 did.
In addition, the new ordinance provides a process by which property owners can seek even greater allowances, assuming, of course, their immediate neighbors agree. The council is seeking to establish specific formulas by which neighbors, their hedges, their walls, and their views can coexist harmoniously while providing enforceable but flexible limits by which disputes, should they arise, can be resolved. The vote was 6-1 with Councilmember Randy Rowse opposing.