Business
Will FuelBox Replace the Outlet?
Santa Barbara Startup Makes Rechargeable 25-Hour Battery for Our Plugged-In World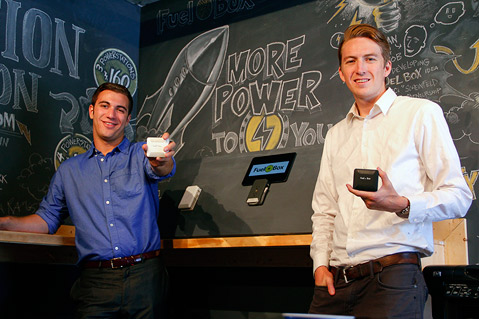 Those traditional electrical wall outlets we're all familiar with are getting a run for their money from FuelBox, a Santa Barbara–based team of entrepreneurs who are developing a universal charging device called the powerStation as well as a mobile battery called the boostPack. Now, instead of needing multiple outlets to plug in all the different cords for your different devices, FuelBox is putting all types of charging needs into one multi-use device.
"Being disconnected is no longer an option anymore because today's world requires technology," said FuelBox cofounder Dan Friedman. "It's no longer going to be the question of 'Do you have this or that type of charger?' It's now ​simply going to be ​a question of 'Do you have a FuelBox?'"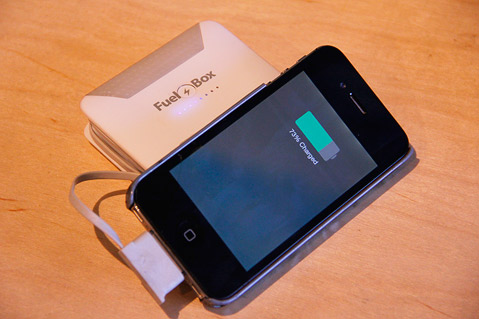 The powerStation​ ​​features a USB port, ​a shelf for displaying devices, and magnets for securing the boostPack, whose rechargeable, 5200-mAh battery ​offers ​more than ​25 hours of battery life. The products will cost between $100 and $120 once they hit the market. "We ​are the first company to ​​create a product ​that pairs both stationary charging at home or in the office with mobile power on the go, all in one​ simple and elegant design," said cofounder Robert Herr, who was able to raise more than $50,000 for the project via the crowdfunding site indiegogo.com. The company is already on contract to distribute in Target, BestBuy, Fry's, JC Penney, and Walgreens, and also recently made its largest sale of 1,000 units to a San Francisco Bay–area retailer.
Both Herr and Friedman are former Santa Barbara City College students who were mentored in the ​Students in Free Enterprise (SIFE) entrepreneurship​ program led by Melissa Moreno, the director of the SBCC Scheinfeld Center. Instead of going on to four-year universities, they teamed up to work on FuelBox, spending about two uninterrupted years on it so far. And they've made traditional startup sacrifices too, such as Herr living in a tent in Friedman's backyard.
"We are not a one product company by any means, and people are beginning to ​hear word of FuelBox," Friedman said. "We're already developing our future products and ​also have a vision of becoming FuelBox Labs, a open-source laboratory​ where we can help other ​entrepreneurs and innovators ​develop and accelerate​ their ideas and technology gadgets​. There aren't many accelerators ​ available​ in our area​ to help entrepreneurs gain ​the​ resources ​and connections they need, allow​ing​ them to skip years of ​struggles." Added Herr, "We see Santa Barbara becoming the ​next ​tech hub … another chapter of the Silicon Valley."
Already teamed with product developers, technologists, distributors,​ and manufacturers, the FuelBox duo are seeking an investor in Santa Barbara to take the project to a mass scale, or as they say, put the fuel in FuelBox. "We're at a pivotal point in moving toward national distribution," said Herr. "We ​have everything​ set in place to do ​exactly ​that, now we just need a​ financial partner."
The ​​FuelBox team also includes C​F​O​​ Ryan Heinberg and COO Kelly Smith, who both have years of experience, as well as a well-rounded board of advisors and directors, including Chairman Bob Verhey, who's launched more than 45 ventures now valued at more than $4.2 billion.
"We are a daring group of entrepreneurs with a dream to build an innovation lab in order to bring ingenious ideas to life," said Herr. "With the support of our community, we can become one step closer to becoming the innovation center we aim to achieve."
See MyFuelBox.com.