Theater
Bringing Ghetto to Life
Play Remembers Vilna During World War II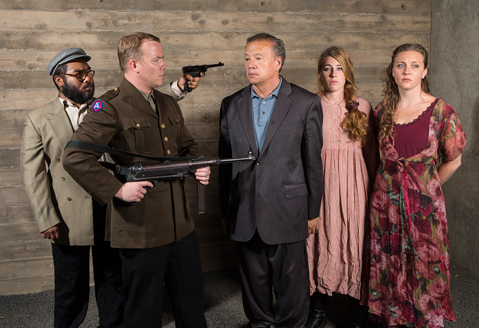 Let no one fault Santa Barbara's splendidly exuberant DIJO Productions Theatre Company for lack of ambition. From the people who brought us such outstanding historical dramas as Frost/Nixon and Inherit the Wind, and such exciting topical theater as 12 Angry Men and The Vagina Monologues, comes what has to be their most dramatic of big choices so far, the Israeli playwright Joshua Sobol's epic play about the Holocaust, Ghetto. Set in Vilna, the most culturally rich of the Jewish ghettos in Eastern Europe during World War II, the play dramatizes a real historical fact: the existence of a Jewish ghetto theater that held performances in Vilna from 1941, when Jews were first driven to the ghetto, until 1943, when all but a handful of the nearly 55,000 residents were either murdered or sent to the Nazi German death camps in German-occupied Poland. Sobol's play tells the story of this ghetto theater through the use of historical figures, period songs, and a variety of theatrical devices, including a ventriloquist and his truth-telling dummy.
Music director Bill Waxman will play Srulik, the narrator, who is both the artistic director of the theater and the ventriloquist. Maya Mook plays the puppet, and she will be joined by many familiar figures, including her frequent collaborator Ed Giron, who is directing the show and will play Weiskopf, a deal-making pragmatist. Joe Beck and George Coe are on hand to play the bad guys, a Jewish overseer and a Nazi, respectively. Jerry Oshinsky, the producing hand behind the whole thing, will play Hermann Kruk, a socialist writer who has holed up in the ghetto's library to write a chronicle of the war.
A mix of satire, history, and of course horrible tragedy, the play features a singing character, Hayyah (Jennifer Marco), whose voice haunts the proceedings, and a sense of unreality that's equally attributable to the theatricality of the script and the extraordinary drama of these historical events. Ghetto plays at Center Stage Theater Friday-Sunday, July 18-August 10. Call (805) 963-0408 or visit centerstagetheater.org for tickets and info.