News
Who Gives a Frack?
State Regulators Hear Arguments For, Against Drilling Law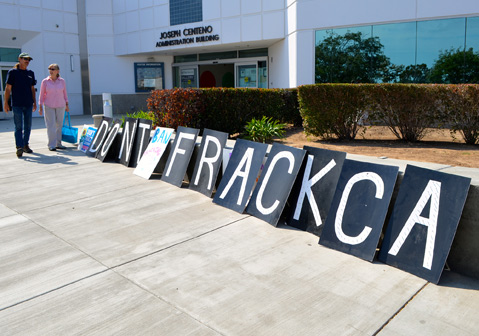 The dozen or so people who aired their grievances before the state's oil and gas oversight agency on Tuesday all agreed on one thing: Senate Bill 4, the law that will place new regulations on hydraulic fracturing and acidizing operations across California in January, has reached its tipping point. What they didn't agree on was which direction the bill should go. Instead, environmental activists and oil-industry officials took turns before the microphone, imploring the Division of Oil, Gas, and Geothermal Resources (DOGGR) to not allow the other side to have too much of a hand in the law's final draft, which the environmentalists argued isn't tough enough and the industry said could soon go too far.
The first of five three-hour public meetings DOGGR will hold on SB 4 across the state, Tuesday's session ​— ​hosted in the Board of Supervisors' Santa Maria hearing room ​— ​attracted only about 50 attendees and petered out after about an hour. The Water Guardians ​— ​an activist group behind Measure P, the November ballot measure that would ban all new hydraulic fracturing (known as fracking), acidizing, and cyclic-steam operations in Santa Barbara County ​— ​held signs outside the building prior to the meeting's start.
DOGGR, which has collected more than 150,000 SB 4–related comments from California residents since November, released a revised version of the bill in June based on input from previous public workshops and conversations from other agencies. Changes include ensuring that wells be tested before and after earthquakes and undergo more rigorous testing following earthquakes stronger than a 2.0 magnitude; that an "acid volume threshold" be determined to weed out routine well cleanings from well-stimulation treatments; that a searchable index be created for people to see the pressurization and acidization history of every individual well; and that the type of water and how much water used in a drilling session be disclosed. But many environmental groups have since contended that the bill still contains too many loopholes.
Katie Davis, one of the most prominent Water Guardians, shared her thoughts with the DOGGR representatives ​— ​who didn't respond to any of the comments but took notes for the final version of the bill ​— ​after a series of area oil-industry officials said they support SB 4 but asked that it not be made tougher. That the industry is supporting the law, Davis said, "may be an indication that your regulation is insufficient." Davis suggested that DOGGR continue studying fracking ​— ​she noted the several communities across the state that have recently banned the practice ​— ​and consider adding to the bill's watch list the practice of cyclic steaming, which has grown increasingly popular in Santa Barbara County. Cyclic steaming ​— ​the most-proposed technique on the county's radar ​— ​involves injecting steam into the ground to thin the oil, while fracking and acidizing involve breaking and dissolving the rock formations, respectively.
Sticking to cyclic steaming, Davis noted the seeps suffered at Pacific Coast Energy Company's Orcutt Oil Field operations, a long-lasting spill in Canada, and the method's overall four-times-greater contribution of greenhouse-gas emissions compared to conventional drilling. With SB 4, Davis said, DOGGR should look to "privilege human health, preservation of our precious water supplies, and our obligation to reduce emissions to protect the future livability of our planet" over oil interests. "That would be real regulation," she said.
But the industry officials who spoke before and after Davis stressed that California ​— ​and Santa Barbara County in particular, which enacted stringent fracking rules in 2011 ​— ​is already home to some of the toughest regulations in the country. Strengthening SB 4 in the eyes of environmentalists ​— ​by declaring moratoriums on certain practices, for instance ​— ​many industry reps argued, would mean weakening an economy-fueling industry. "That's not what SB 4 spells out. SB 4 was a consensus bill, and we are urging you to implement that fairly," said Brendan Huffman of the Coastal Energy Alliance. Joe Armendariz, of the Santa Barbara County Taxpayers Association, said that "environmentalists should be celebrating their success" with what SB 4 has spelled out thus far, but he cautioned DOGGR against doing anything that would "undermine" the bill's regulatory-only aims.
The state has until January to finalize the bill's language, and DOGGR will hold four more public meetings up and down the state (Long Beach, Sacramento, Salinas, and Bakersfield) in the next couple of weeks. Legal and fiscal analyses of Measure P will come this summer.