Arts & Entertainment
Packing the Bowl with Slightly Stoopid
Reggae Rockers Return with Stephen Marley, Cypress Hill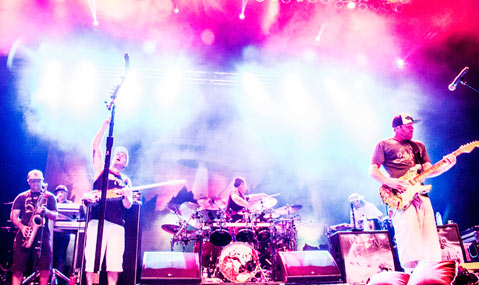 They're baaack. Slightly Stoopid has been playing in and around town for years now, and this Friday, the band returns to headline the S.B. Bowl. Founders Miles Doughty and Kyle McDonald started the group in high school and hit the road to play in clubs the minute they turned 18. Reminiscing about those times by phone last week, Doughty says, "We're all very fortunate to be able to do this for a couple decades and travel the world with your best friends. I'm living the dream."
When you've been performing for almost two decades, you can pretty much play anything and master it, and that's exactly what Slightly Stoopid do. Started as a punk-rock three-piece back in 1995, the band now boasts eight members and plays everything from hip-hop to acoustic to blues and rock; it's no wonder Doughty describes their music as a "melting pot of madness." Over the years, they've found kindred spirits in all manner of collaborators, too, from Snoop Dogg to John Denver to Stephen Marley, who joins the band as part of their current Summer Sessions Tour. When asked who his favorite artists to work with were, Doughty explains, "All of them. It's been a blessing to work with all of them."
Friday's show promises to be equally eclectic. Doughty says that the band is playing different sets, mixing up everything from the old tracks to never-before-heard songs. Openers include hip-hop group Cypress Hill, as well as Marley. To Doughty, the Bowl is an especially big highlight on the tour schedule. Every city has its own particular vibe, he says, but Santa Barbara has always been a bit of a home for the band — probably because they've been performing here for nearly 17 years.
"Back in the day, we used to play in Isla Vista, then clubs, and now the Bowl," he recalls. "There are always good vibes, the environment is great, and the people are always good to us." As for Doughty's dream audience? "Maybe 20,000 people just going nuts?" he laughs. "I don't think people realize that every day is so much fun when you're playing music. Every day is a dream audience."
Slightly Stoopid plays the S.B. Bowl on Friday, July 25, at 5:30 p.m. Call (805) 962-7411 or visit sbbowl.com for tickets.