Opinion
Where's the Best Fiesta Food?
Visits to Mercados de la Guerra and Norte Strike Gold
OLD-FASHIONED: In this confounded digital era, it's so comforting to find something old-fashioned and tasty, like Fiesta food, right?
So, for the umpteenth summer, I went searching for the best at El Mercado de la Guerra and El Mercado Del Norte, at MacKenzie Park. I used to go hunting for the latest and greatest taco, but now I've moved on.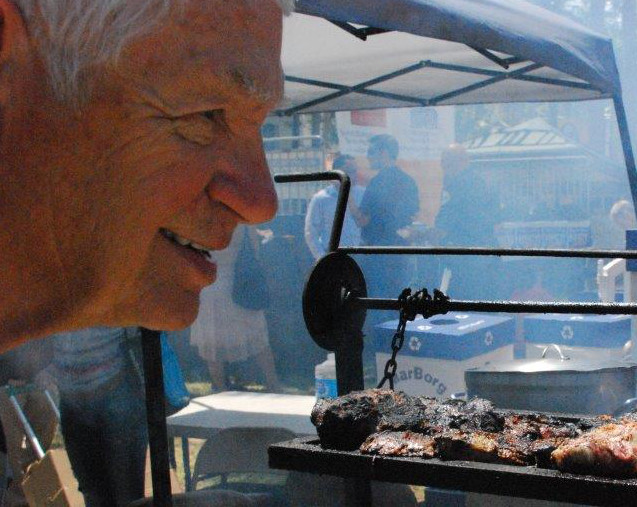 Fiesta offers tacos galore, of every taste, booth after booth. When in doubt about anything, go for the classic, the tried and true, the time-tested. I'm talking about the Special Olympics basic taco: ground beef, salsa, lettuce, and cheese folded into a crunchy tortilla. Fr. Junipero Serra probably ate one while here.
I found Kalon Gronquist, who's been working at the booth since the late 1980s, producing them at De la Guerra at the reasonable price of $3.50.
Down the line, Superior Court Judge Denise de Bellefeuille, looking Fiesta pretty, was waiting in La Casa de la Raza's line with bailiff Noel Rivas for a $10 tri-tip torta. I can't handle one. They're so big, one is a meal in itself. Afterward, I'm not in the mood for anything else, and that's no fun.
Every year, the longest line at De la Guerra is at the Old Spanish Days carnitas booth ($3 and a real deal) and this year was no exception. Jeff Waxman and Allan McComb got there before noon Wednesday and beat the crowd.
"It's my one and only Fiesta foray," Jeff said. I didn't have time to wait in line, so Allan gave me one of his, dripping with hot sauce. Excellent.
Channel 3 news star John Palminteri was gulping down food in between shots, his dark hair flecked with confetti: "But not in my food. If only they made edible confetti."
Something new this year at De la Guerra was the McConnell's ice cream booth, where Kelly White dished out Oaxacan chocolate and churro con leche flavors to my photographer wife, Sue, and my son Barclay. We rated them A-1.
Across the way, Mari Ibarra was serving chicken fajitas tortas for $8 at the Holy Cross Church booth.
One of my few disappointments every year has been that the arroz con pollo (chicken and rice) never lives up to my recollections of the traditional dish during my Panama days. So I was delighted to find a $4 bowl of moist, hot arroz con pollo at La Belle Rosas booth, served by Richard Guajardo. The tamales are $4, and since I was nearing the full mark, I bought two to take home.
Then we found our way to El Zarape's booth for my annual fix of goat tacos. Don't like the idea? Well, you can't go through life without a zesty adventure once in a while, can you? True, not an adventure for the goat, I'll admit.
Or for the pig that gave its life for the pulled pork sandwich ($6 and be sure to slather on lots of hot sauce) at the Vietnam Veterans of America booth manned by Gerry Roberson.
There was more, much more at El Mercado De la Guerra, but Sue and I had to head for MacKenzie Park, with its very different Fiesta flavor. For one thing, half the park is given over to a carnival.
MacKenzie is a family Fiesta, with more room to spread out, and tables (if you're lucky enough to score one). Plenty of parents with little kids and teenagers roaming around, flirting.
And the food is always different from the downtown mercado. Take the sausage booth, where you can buy long, fat Polish dogs and juicy bratwurst smothered in onions for $6, and bacon-wrapped hot dogs. Luz Estrada sold us on the bratwurst.
Did I mention the traditional Mexican drinks of horchata, a sweet rice beverage, and jamaica (from hibiscus blossoms)? Forget about Coke for a week and try these thirst-quenchers. About $2.50 everywhere.
Summer isn't summer without corn on the cob, and I found some at the booth run by Boy Scout Troop 1. Sue and I went around tasting and tasting until we couldn't eat another morsel. We had to pack the rest up to take home.
Dessert? We found tres leches cake, a huge double-decker hunk for $5, another Fiesta bargain, and of course the traditional Latin American sweet flan, for $5. But we sadly shook our heads and promised ourselves that we'd return another day, and another Fiesta.