News
Fiesta Lite
Oh, the Cruelties of Age
Writing a Fiesta Lite column on ethics was my goal for this week. The topic had to be nothing too serious or mind provoking (mine or yours). It was too damn hot, there was too much good food, drink, and dancing everywhere in Santa Barbara. I couldn't imagine anyone wanting to think about the complex and ethical issues of our time this weekend. They'll still be with us next week.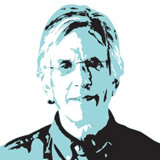 As I pondered topics, a friend called and asked if I thought it was ethical to ever lie (such a harsh word — let's say fib) about your age.
This was my perfect Fiesta Lite topic. I was confident I didn't need to look up what Aristotle, Emanuel Kant, or William James had to say on the subject. My answer to my friend would be simple: If it's not illegal (for example on government forms, such as a driver's license), and you didn't gain financially or hurt someone in any way by your fib, then you should be able to knock yourself out and pick any age you want.
Case closed. But, before I put fingers to keyboard, I did my usual Google check to see what had been written on the topic.
This is where things began to go south for my Fiesta Lite idea. I discovered that a lot of people write on lying about age. This list that follows is just a few of the numerous subtopics I found on the issue:
lying about your age in a relationship
lying about your age to your boyfriend
lying about your age for a job
lying about your age to a guy
lying about your age online
lying about your age on the internet
lying about your age on dating sites
lying about your age on paypal
lying about your age on a resume
How could I possibly address this ageless topic for Fiesta Lite? Curiosity won out.
Regardless of the specific subtopics, the pros and cons in all I read seemed about the same. Oprah Winfrey said women should never lie about their age because they are denying "the years they have earned here on planet earth." But Lucille Ball said, "The secret of staying young is live honestly, eat slowly, and lie about your age."
When we think about lying about age, we almost always think about lowering the digit, say from 40 to 33. That's not always the issue.
The famous French designer Coco Channel believed you should never lie about your age and claim to be younger than you are. Instead, she recommended adding 10 years so that when asked about her, people would always remark how wonderful she looked.
The great Satchel Paige, a Baseball Hall of Famer, "often lied about his age," said his biographer Larry Tyle. The pitcher claimed to be older than he was because that made him more of a baseball miracle, reported Tyle.
Actors and writers in the irrational world of the entertainment industry are often forced to lie about their age if they want work. There is the story (not all the facts are known) of a woman sit-com writer who was in her late twenties but writing about an 18-year-old character in a TV show. When the show's producer discovered the writer's age, she was fired because she had said she was 18. No one apparently challenged her ability to write sit-coms. The producers just could not understand how anyone who wasn't 18 at the time could write about an 18-year-old.
So is lying about your age ethical? I can definitely say, "It all depends." If you're a purist, a lie is always wrong. But I think there are just too many competing factors and variables to declare an absolute fatwa on lying about one's age.
Nobody grows old merely by living a number of years. We grow old by deserting out ideals. Years may wrinkle the skin, but to give up enthusiasm wrinkles the soul.
—Samuel Ullman, American businessman, poet, humanitarian
Benjamin Bycel is an attorney and writer. He was the founding executive director of the Los Angeles Ethics Commission and of the newly reconstituted Connecticut Ethics office. He serves as an expert witness in cases dealing with political and legal ethics. If you have an ethics question, send it to streetethics@independent.com.