Voices
Funding Our Future
Employers Rely on a Well-Educated Workforce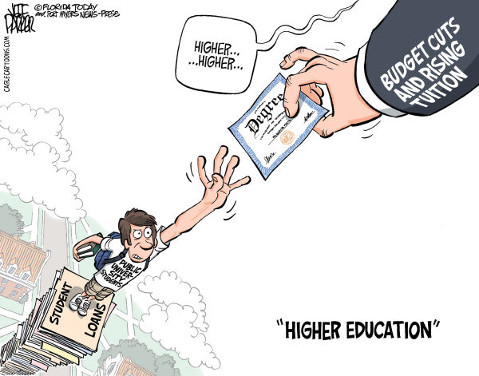 The Public Policy Institute of California projects that by 2025 California will be one million baccalaureate degrees short of meeting the economic productivity demands of our economy. For the first time in recent history, California is on track to produce a generation that has a lower education attainment than their parents. The state's direct enrollment rate from high school into four-year colleges is among the lowest in the nation, and although students who transfer from community colleges to the University of California (UC) and California State University (CSU) have high success rates, transfer rates are very low.
This is a serious wake-up call; we need to prioritize ongoing funding for higher education. The prosperity of our state depends on qualified and prepared individuals in our workforce. I believe it is the responsibility of our state government and higher education institutions to ensure college is both affordable and accessible to all qualified students. As chair of the Assembly Committee on Higher Education, I have made reinvesting in higher education a top priority, but more must be done.
Recently, the California Department of Finance announced that property tax revenues did not exceed projections. This nullified a state budget trigger that would have provided an additional $100 million for the UC and CSU. However, due to an unexpected windfall of revenue from streams other than property taxes, Assembly Speaker Toni Atkins (D-San Diego) is advocating for Assembly Bill 1476 and Senate Bill 872 to restore $100 million in funding for UC and CSU. The bills allocate $50 million to each for deferred maintenance or other onetime purposes.
Unlike the budget adopted earlier this year, this new effort expresses the Legislature's intent to make these funds permanent for the purpose of expanding enrollment and improving services for students if the economy and revenues continue to rebound.
I applaud Speaker Atkins's swift commitment to dedicating more funding for UC and CSU. And I encourage the legislative leaders and Governor Brown to give serious consideration to making these funds ongoing. Ongoing funding is a critical factor to expanding enrollment to qualified students and a significant investment in California's future workforce. We need more enrollment slots for more qualified California children to become the engine of our future economy.
As policymakers, it is vital that we ensure the prosperity of this state; our three public higher education systems are central to that prosperity. They account for over 80 percent of higher education enrollment in California and three-fourths of all bachelor's degrees awarded annually.
Every time I meet leaders from local industries that pay good wages, I ask them why they remain located in California. Nearly all say it's because they have access to skilled, well-educated employees. Higher education fuels the innovation that drives California's robust economy, and a well-trained, skilled workforce can meet the growing needs of our state's evolving industries. Well-educated workers can also expect to bring home larger paychecks, leading to increased state revenues. Additionally, higher education improves quality of life by expanding career opportunities, lifting families out of poverty and exposing students to new ways of thinking.
According to the Campaign for College Opportunity (a nonprofit organization with a mission of ensuring all students have access to higher education), California receives a $4.50 return on investment for every $1 it invests in higher education.
For all these reasons and for many more, it is crucial that we designate ongoing funds to our higher education systems. Every eligible student deserves the opportunity to have a spot in a college classroom. Ongoing funding will create the stability that our colleges need to accept more students.