News
Multiple Murder Victims Found in Home Near Goleta
UPDATE: Nicolas Holzer Arrested for Fatally Stabbing Parents and Two Young Sons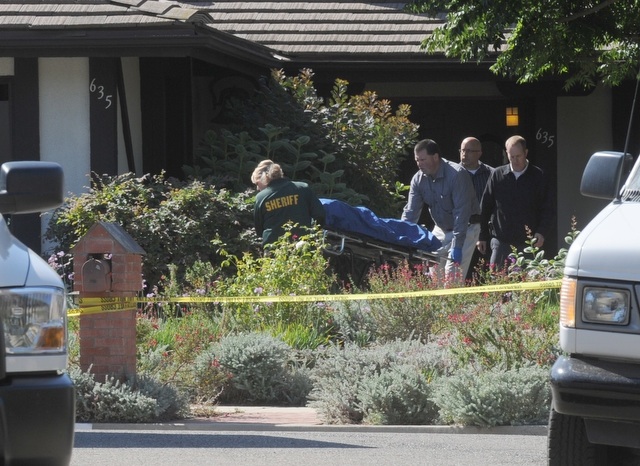 [UPDATE]: A horrific case of domestic violence left four family members stabbed to death in their home near Goleta late Monday night. Authorities say 45-year-old Nicolas Holzer used two kitchen knives to kill his parents, his two sons, and his dog before he called police to turn himself in. Speaking in a "calm" and "matter of fact" tone, Holzer told a dispatcher he had killed his entire family because it was his "destiny," said Sheriff Bill Brown on Tuesday.
Holzer, who is from Santa Barbara, first repeatedly stabbed his father, William Holzer, 73, in the den of the house located at 635 Walnut Park Lane where the five of them had lived for approximately seven years, Brown said. Holzer proceeded into his sons' bedroom as they were sleeping and repeatedly stabbed Sebastian, 13, and Vincent, who was 10. He went on to kill his mother, Sheila Holzer, 74, in the doorway of the boys' bedroom. Last, Holzer stabbed his Australian shepherd in the hallway. All victims were determined deceased once medics arrived, and authorities detained Holzer at the front door without incident.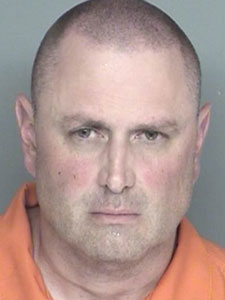 When asked why he had committed these murders, Holzer told detectives, "I had to." Brown did not elaborate, and a motive or preceding event has not yet been identified. Investigators are determining the "possibility" or "probability" that mental illness was involved, he added. Drugs or alcohol are not suspected, said sheriff's spokesperson Kelly Hoover. Because of HIPAA laws, authorities cannot report if Holzer had been taking prescription drugs.
The tragic event was "not unexpected," said a neighbor, who did not want to be identified. Holzer had been unemployed for years and had appeared to be on a downhill slide after his contentious divorce a number of years ago, the neighbor added. "You would have to force him to say hello," he said. The family did not appear to be happy, the neighbor said, adding Holzer had "psychological problems." The neighbor had previously told William Holzer to come get him if there were ever a physical confrontation.
Law enforcement has not responded to the residence in the past several years, according to Brown; however, a neighbor recalled that an ambulance had responded to the house a couple years ago, but that could not be confirmed. The only contact Holzer had with Sheriff's deputies was in 1996, when he was a witness in an assault case, Brown said. Holzer does not have a criminal record.
Holzer had full custody of his two sons, and according to another anonymous neighbor, his ex-wife was never seen at the house. William Holzer was still working part-time as he had five mouths to feed and two grandkids to someday put through college, a neighbor added. William Holzer was a well-known scientist who previously worked for Raytheon and held a patent to an optical measuring device, Brown said.
The young boys seemed to be "highly intelligent" but were never seen playing out in the street on the quiet cul-de-sac, said the neighbor. Residents on the street are fairly close, the neighbor added, and recalled William Holzer to be sociable and his wife, Sheila, to be as quiet as a "church mouse." Vincent, the youngest boy, attended Foothill Elementary School around the corner and would run to and from school every day. Sebastian would have started the 8th grade at La Colina Junior High School in a few weeks. Goleta and Santa Barbara school districts will offer support and counseling to teachers or students who need it, Brown added.
A neighbor, who had been up all night, said the crime scene Monday night was very "quiet" and "professional." Others close by said they did not hear about the gruesome incident until Tuesday on the news.
Holzer, who is in custody without bail, will likely be charged with multiple murder counts and felony animal cruelty, said District Attorney Joyce Dudley. Holzer will be officially charged by prosecutor Ron Zonen on Wednesday.
"It's sad and tragic. For the two boys and the grandparents. I know they wanted the best for their son and did what they could to help him," said the neighbor. "As far as that goes, they were very private. You just never know what happens behind closed doors."
[UPDATE]: The Sheriff's Office has confirmed that detectives are investigating a quadruple homicide at a residence in the 600 block of Walnut Park Lane near Goleta. Spokesperson Kelly Hoover said four victims and a dog were discovered in the home with multiple stab wounds and that a 46-year-old male suspect was taken into custody without incident. She declined to release any additional information.
A press conference scheduled for 10 a.m. has been canceled until victims' families can be located and notified, Hoover said.
Independent reporter Kelsey Brugger remains on the scene and said coroner's personnel have removed two bodies from the home. The area remains blocked off as authorities conduct their investigation, she said.
[ORIGINAL REPORT]:According to unconfirmed reports, multiple homicide victims were found Monday night inside a home at 635 Walnut Park Lane near the city of Goleta. An unidentified 46-year-old man is in custody, and authorities say there are not looking for any additional suspects. Four people are believed to have been killed, sources say.
Sheriff's spokesperson Kelly Hoover declined to release any more details on the incident. A press conference is scheduled for 10 a.m. at the Sheriff's Office headquarters.
The home where the murders reportedly took place is located in a cul-de-sac near Foothill Elementary School. The end of the street has been blocked off by law enforcement personnel, said Independent reporter Kelsey Brugger, who is on the scene. She described the neighborhood as "really still and quiet."
This is a breaking story. Check back soon for details.