Voices
City College Needs Measure S
Upgrades Needed for Leaks, Safety, and New Technology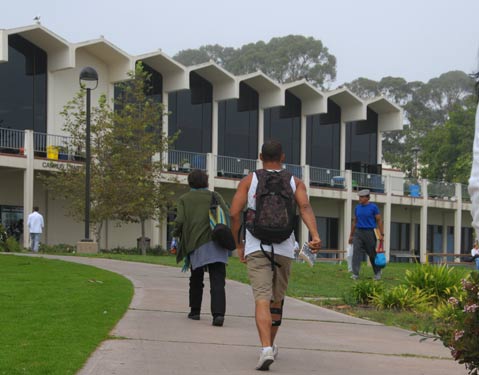 Improving Santa Barbara City College is vital for local students and to maintaining the excellent education offered by SBCC. Improving City College will also boost our local economy, improve skills of our workforce, and help sustain property values.
Our top-notch community college is the primary higher education option for local high school graduates — especially as the cost of attending other colleges and universities in California has skyrocketed to six times or more of that of community college. Almost half of all South County high school graduates rely on City College for higher education or career preparation in the years immediately following high school — and 2,000 Santa Barbara high school students are enrolled in City College each semester while still attending high school.
Local employers rely on City College to train skilled employees for good jobs — and SBCC is also increasingly important for veterans returning home and preparing for the next phase of their lives and careers.
SBCC is a critical resource for students and families, and for businesses seeking skilled employees — and we must keep classrooms, instructional facilities, labs, and technology up-to-date.
That's why Measure S is essential today: Many classroom buildings are 40-80 years old and suffer significantly from decades of wear and tear: Roofs, floors, and plumbing are leaky and deteriorating; vital safety upgrades are needed; wiring is inadequate to support modern technology; and many vocational labs and other classrooms lack current technology needed for 21st-century skills and career training, especially in health care, science, IT (information technologies), and other growing, technology-intensive fields.
We recognize that there are housing concerns involving students, who often live away from home after graduating from high school. SBCC is exploring all options for contributing to meaningful solutions, including close partnerships with local governments and property owners; transit improvements including coordination with MTD; and strengthening SBCC's internal support for smart student housing choices.
However, there is no connection between our area's housing challenges and Measure S. Measure S is for modernizing and improving the educational facilities we already have, not for growing student enrollment. We're fortunate to live in a uniquely beautiful part of the world, and housing in our area will always be challenging as long as our quality of life remains high. Our great area schools — from kindergarten through higher education — help sustain our property values, local businesses, and our rich cultural resources. While fewer than 6 percent of SBCC students are international, their presence contributes meaningfully to local students' educational experience. It's certainly in everyone's interest to tackle our area's housing challenges, but Measure S is not related to these issues, and opposing critical upgrades for City College based on housing concerns would make no sense at all.
Just as it has always been, City College will continue to provide the best education possible — as good as or better than any in the United States — to tens of thousands of local students. SBCC continues to be perhaps the single-most-important institution that keeps Santa Barbara affordable for middle-class families, by offering high-quality, affordable higher education and career preparation and training — a critical and essential resource for those who are aiming to pull themselves up by the bootstraps.
Measure S is needed today, and it is essential to the future of SBCC and our entire community that we approve it. Our community has always received tremendous value from City College, and it's time to invest in some much-needed improvements. Voting yes on Measure S is an important choice and will have a profound benefit for students and our entire community.
Please join us, and vote Yes on Measure S.
Peter R. MacDougall is president emeritus of Santa Barbara City College; Michael Bennett is the mayor of Goleta; and S. Monique Limón is a boardmember of the Santa Barbara Unified School District.