News
Court Records Shed Light on Holzer Murders
Nicolas and Ex-Wife Juana Exchanged Accusations of Sexual Abuse Against Sons
Nicolas Holzer, accused of killing his mother and father and two sons last week, made his first court appearance less than 48 hours after police responded to the bloody scene. The 45-year-old man, who allegedly fatally stabbed his family and their dog using two kitchen knives, was charged with four counts of first-degree murder and one count of animal cruelty. He could face the death penalty and was ordered to undergo a psychiatric evaluation. Deputy public defender Christine Voss will review the reports before the case returns to court on September 9.
In the days following the horrific incident, a response team spent time in the quiet neighborhood just outside Goleta. Experts reached out to those who knew the four victims: Bill, 73, Sheila, 74, Sebastian, 13, and Vincent, 10. The Holzer family was reportedly well-known in their community, but they were very private.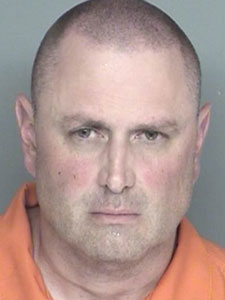 Nicolas had lived with his parents and his two sons at the house on Walnut Park Lane for seven years, and he had been unemployed after he quit working at Raytheon in 2006. He was hospitalized for depression in the late 1990s, according to court documents in his later divorce, but the condition was later dismissed as a thyroid problem.
The incident raises questions of how a man who apparently stabbed his parents and two young sons was able to gain full custody of his children from ex-wife Juana Holzer seven years earlier. "It was a case of money and power that took the kids away from Juana," said Juana's current boyfriend, Charles Sirois, in an email.
Juana and Nicolas married in 2001, eight months before their first son, Sebastian, was born. Juana is from Mexico and has family in San Diego, but it's not clear how the couple met. In 2004, Vincent was born, and the family lived in a condo in Goleta.
Two years later, Nicolas filed for divorce, claiming Juana refused to work on marital issues and was being unfairly influenced by her family. One day, Juana took the children to San Diego and left a note. Juana contended Nicolas was aggressive and controlling, and she alleges in court filings he accused her of marrying him for money and citizenship status. She contended she had to travel south to escape his rage.
Following the divorce, a contentious custody battle ensued. After the first round of hearings, the court granted Nicolas physical custody and gave Juana visitation rights. She missed visits for six weeks, but she claimed she maintained phone contact and had had a family emergency in Mexico.
Accusations that both Nicolas and Juana sexually abused Vincent and Sebastian are detailed in the court filings, but the allegations were never confirmed. Juana's visitation rights were later suspended during an investigation into statements that Vincent made to a therapist about sexual abuse from his mother and her two sisters. Juana and her sisters denied the allegations.
A therapist who was assigned to work with both brothers made reports to Child Welfare Services. The agency denied a request from The Santa Barbara Independent to view those documents, citing the open murder investigation by the Sheriff's Office.
According to his former attorney, Matthew Long, Nicolas appeared to be a "normal guy" for someone who was going through such a litigious custody battle. Attorneys who represented Juana declined to comment. In 2005, Nicolas was involved in a civil dispute with a neighbor. A young woman contended, according to court records, that Holzer had a history of escalating harassment and that she feared for her safety. He denied the accusations, and the matter was later resolved through a court mediator.
"The systems and safeguards failed Juana, which ended up costing the lives of two innocent children," wrote Charles Sirois. "What a tragedy." He declined to answer further questions.
Friends and teachers recalled the two boys were bright and consistently earned high test scores. The youngest, Vincent, was a "Social Studies buff," and Sebastian was friendly and outgoing. An informal gathering was held for students last week to remember their classmates before the school year started. "By no means are these things healed, but at least it takes a step in the right direction," said Bridget Braney, principal at Foothill Elementary, where Vincent attended. Sebastian went to La Colina Junior High School.
Their grandparents, Bill and Sheila Holzer, donated to various community organizations. Sheila was remembered as a "sweetheart of a lady" and for being a quiet homemaker. Bill worked for many years at Raytheon, where he was considered a "national asset," a colleague said. "There are things that this country can do because Bill Holzer was alive," he said. "He was a capable, capable dude."