Drink
Number Juan Tequila Is No Joke
Comedians Alex Reymundo and Ron White Don't' Laugh About Their Quality Liquor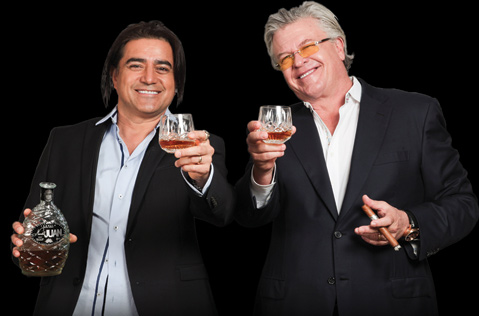 At last year's Santa Barbara Tequila Harvest Festival, famous comedians Alex Reymundo and Ron White — who met over a shot of tequila and a beer at a Texas stand-up bar in 1989 and have been good friends ever since — unveiled their Number Juan Tequila to the world. They took home the gold medal, the first of many awards and accolades they would earn over the ensuing year; this Saturday, August 30, they return to Elings Park as one of the main sponsors for the agave-based, liquor-focused fest, now in its fifth year. To learn more about the brand, I spoke at length with Reymundo, a Latino raised in the bourbon-soaked state of Kentucky known for inventing the uniquely American "Hick-Spanic" and "Red-Nexican" genres of stand-up comedy.
How did a comedian start making tequila? I got tired of paying the tab! But I love tequila, and I have a friend who's an importer, and he turned me on to a little bitty distillery in Mexico. When I tasted it, I was just literally beside myself. I wanted to buy it, but they'd never had a U.S. presence. I convinced them that I would use the same care and passion in selling it that they do in creating it. They're artists in every sense of the word. It's a tiny little place in the shadow of monstrous distilleries that produce the well-known American labels. I couldn't walk away.
Have you visited the distillery? I've been down there many times and so has Ron. We've actually stood in the field and harvested the agave ourselves for a little while. It's amazing what those guys can do. They take those leaves off the piña and leave it perfectly rounded, like a big old egg. Mine came out kind of square and oblong.
Were there any concerns about the name? Number Juan comes from one of my jokes about Mexicans in NASCAR, a driver named Manny Peddy in the car Number Juan, the uninsured F-150. I just loved the tongue-in-cheek aspect. I believe if you make people laugh, you disarm them in every way. I've also traveled in every state in the country, and I wanted to turn Americans onto some really nice tequila, but not everyone can actually say "Cazadores" or "Fortaleza." I wanted it to be called something that everyone can say.
So I brought it up in a meeting of market research guys, and everyone in that room said, "That's the dumbest thing I've ever heard. You need to be serious." The very next week, I went on a radio show that's syndicated in 105 markets across the country and asked what people thought of the name Number Juan. It was overwhelming how many people wrote in, "That's the greatest name ever."
I went back to that firm and said, "You just lost an account."
How does tequila do in Kentucky? Fantastic. Kentucky isn't one of the biggest in tequila consumption, but it was the perfect state to launch what we're doing. Our extra añejo is aged in a retired bourbon barrel, so if someone only drinks bourbon, I take him straight to that. I can't keep it on the shelf here in Kentucky.
Ron's a famous scotch drinker. How did his fans react? We were nervous about that, but it's pretty amazing: We've heard nothing but positive response to him drinking and owning a tequila label. He wouldn't be doing it if he didn't believe how great it is. His heart's in it. It's not like he quit drinking!
4·1·1
Number Juan Tequila will be at the Fifth Annual Santa Barbara Tequila Harvest Festival Saturday, August 30, 4-7 p.m., in Elings Park. Tickets are $50-$100. See agaveavenue.com.