Arts & Entertainment
Review: Tyga at Earl Warren Showgrounds
Rising Hip-Hop Star Made the Ladies Swoon (and Sweat) on August 30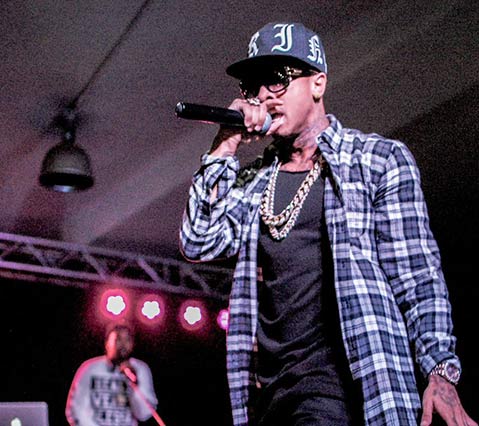 The size of the crowd drawn by L.A. rapper Tyga last Saturday night at the Earl Warren Showgrounds wasn't a surprise. Tyga, whose pop-friendly Cash Money Records labelmates include Nicki Minaj and Drake, is an artist very much on the rise, with a résumé already stocked with gold and platinum records. Plus, he's engaged in a pretty interesting game of Internet hoops with Justin Bieber right now via Instagram.
Tyga's overtly cocky, 808-laden "club bangers" are built for mass bro consumption: They're lyrically vapid, sporting infuriatingly catchy hooks like "Rack city, bitch, rack, rack city, bitch" and "molly, molly, molly." It would be a mistake to confuse this diagnosis as straightforward negative criticism, though — after all, Tyga didn't make the rules to music-biz success circa 2014.
That said, the Earl Warren sound system was more than capable of pushing out the bass-heavy lineup of DJ Mustard–produced tracks. And though the heat in the AC-absent room was unbearable at times, various groups of concertgoers would only step outside briefly before sprinting back into the crowd upon hearing the intro to "Loyal" or "Wait for a Minute" (featuring Justin Bieber).
At 10:30, Tyga ended the show rather abruptly, funneling a dozen or so girls picked out of the crowd into his black Mercedes Sprinter. When I asked why the show finished so shortly, one group of fans offered up a succinct answer: "Because he was done. It was an awesome show, though! I love that song "Rack City,'" Then, in unison, the group began to chant, "Rack city, bitch! Rack, rack city, bitch!"