News
Democrats Split on SBCC Bond
Measure S Fails to Win Support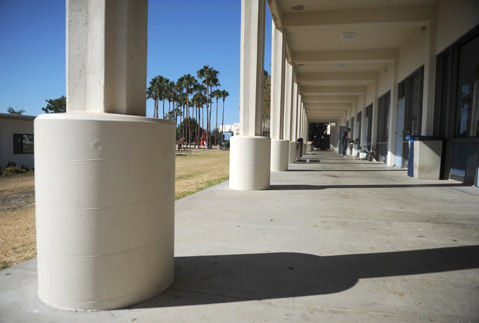 One regional issue heating up this midterm election is the $288 million facilities bond known as Measure S to spruce up and replace a number of buildings at Santa Barbara City College. Area voters have passed most school facilities bonds in the past several years, but this measure has ignited more debate than college administrators would probably like.
Most noteworthy of late is that the notoriously tax-friendly Democratic Party of Santa Barbara County decided to take a neutral position on the measure. Discussing the matter at the last meeting, longtime housing advocate Mickey Flacks expressed serious frustration that the college does not provide residence halls for students, cramping an already tight rental market. An overwhelming majority of the 35-member committee ended up voting to not support the school facilities bond. They have consistently supported similar measures in the past.
"When you have a large population of students essentially without any adults in the area and without any concern on the part of the institution," Flacks said, "you are going to run into problems." College officials have acknowledged the need for housing but have maintained they need to first examine a long-term plan. "It isn't that we haven't been looking," Trustee Peter Haslund said. "So far the answer has been elusive." He added he is disappointed that the party did not support the measure, but he didn't expect their endorsement to be a slam dunk. "It's part of a healthy dialogue," he added. "Serious people disagree."
The lack of endorsement from the Democratic Party is at the very least a logistical setback for the "Yes on S" campaign because the slogan will not appear on door hangers or pamphlets, and the committee will not sponsor phone or door-to-door efforts ​— ​though area Democrats can still campaign individually. Of the decision, SBCC President Lori Gaskin said, "To me, it's not a partisan issue … I don't want to confuse our needs to modernize our existing buildings with anything that is political. It is a genuine upstanding need." A 55 percent vote is needed for the measure to pass.
Part of the difficulty with housing is that it's unknown exactly where SBCC students live. Students often fill out their parent's address on school forms even after they leave home. About 1,200 SBCC students indicate they reside in Isla Vista, but Gaskin estimates between 2,200-2,500 students actually live in the robust college town, based on preliminary data from a recent empirical study. Others claim as many as 5,000 students live there. A few hundred students live in Tropicana Gardens, which on its website is advertised as specifically for SBCC students.
The number of students who attend SBCC from the five nearby high schools (including Bishop) decreased by about 6 percent from 2008-2012, and the number of credit students has remained around 20,000. That said, 43 percent of students from the four area high schools (excluding Bishop) enrolled at SBCC last fall.
The issue of community college housing has emerged in the past, but the high property prices in Santa Barbara, coupled with fears that student housing would create a mini Isla Vista, have been two roadblocks, Flacks said.
The college is not looking for a "Band-Aid" solution, SBCC's Gaskin said, and administrators plan to use some of the bond money, if it passes, for housing, transportation, circulation, and parking. Exactly how much of the bond money remains to be seen. Last year, the Santa Barbara City College Foundation put in a competitive bid to purchase Harbor Heights apartments located across the street, but lost to a $33 million bid.
Contending Measure S should not be "held hostage" for unrelated housing issues, bond supporter and longtime education advocate Lanny Ebenstein said, "[Measure S] is not about providing more classrooms for expansion, so there is no correlation between the bond and housing issues on the South Coast." According to Ebenstein, the percentage of Hispanic students who live in the community has gone up significantly in past decades. Between 2008-2012, the percentage of Hispanic students in the credit division increased from 28 to 33 percent, according to school records.
On a recent tour of some of the deteriorating buildings, some rotting with water damage and in violation of code, Gaskin stressed that the bond measure would not grow or expand the school, but it would modernize many of the campus's "beautiful bones." The first building to be replaced would be a $30 million campus center. The state will kick in $20 million for the project because the money was already allocated from the last state bond. Governor Jerry Brown recently came out against a state school facilities bond, and 10 community colleges are asking their districts for money this November; the average asking amount is about $229 million.
The Republican Party for Santa Barbara County took a position against Measure S, but it voted to support a $90 million bond for the Carpinteria School District. Members of the chapter GOP ​— ​who also heard from college officials ​— ​expressed concerns that the bond is too expensive and that the professors and employees are overpaid. Chapter chair Gregory Gandrud said he believes college students, instead of taxpayers, should pay for higher education. "Put students in the driver's seat," he said.
Party politics aside, a "No on S" committee has continuously stressed the number of out-of-district residents who flock to the area to attend what was named the number one community college in the nation by the Aspen Institute. (It is important to note state law requires community colleges to admit all California residents.) The committee is made up of nine naysayers who say they are working with several organizations. Spearheaded by talk-show host Ernie Salomon, who is known for letting loose on the public access channel, the group takes issue with oversight of the last round of bond projects. Salomon argues $288 million is too much and could grow to be even more depending on future interest rates.
Democratic Party chapter chair Daraka Larimore-Hall specified that the chapter does not share the nativist view that is held by bond opponents who criticize the influx of out-of-area students. "We don't have that archaic, nativist view as to what a committee college is for." He added that representatives from the city and Coastal Commission are also involved in the housing issue and that the party plans to work with the college to tackle the housing issue in the future.
The Democrats did decide to take a position on the college's sixth district ​— ​which represents Isla Visa and part of Hope Ranch ​— ​and endorse Jonathan Abboud, former UCSB Associated Students president and Isla Vista resident active in efforts to bring a voice to Isla Vista. Ethan Stone, a retired entrepreneur, is also running. Neither has reported any campaign moneys.