Theater
Living On the Edge
MCASB's Forum Lounge Goes Festival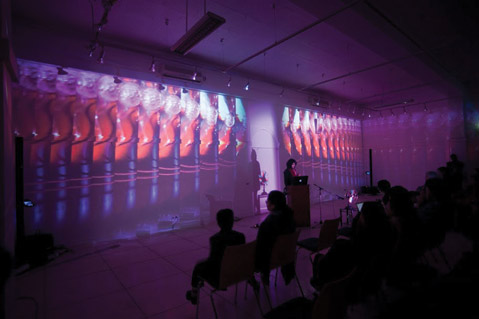 Performance art belongs to the wonderful and bewildering category that philosophically minded folks refer to as "essentially contested concepts." Translation? These are ideas that fight within themselves and that often pose more questions than they answer. They tend to begin as descriptions of situations where the normal rules don't apply, but sometimes, as is the case with performance art, they end by constituting a new entity, a recognizable new thing that people "know it when they see it." Whether it's Yoko Ono in a bed with a Beatle or Joseph Beuys explaining pictures to a dead hare, most people who are familiar with contemporary art have some image of what performance art means in their minds.
Starting on Thursday, September 18, the Museum of Contemporary Art Santa Barbara (MCASB) and curator Heather Jeno Silva plan to update those mental images for you with a selection of the most exciting and innovative performance art happening today. They're calling it the On Edge Festival, and to indicate how ambitious the museum is about reaching the community, they're hosting Thursday's kickoff event at the Santa Barbara County Courthouse. It's there that Sarah Elgart and her Arrogant Elbow ensemble will create Follow, a multimedia promenade experience in which the audience will follow the performance through the halls of the building and out into the Sunken Garden for the finale.
The roots of this new initiative run deep. Through a decade of successful presentations at MCA under the Forum Lounge title, Silva and museum executive director Miki Garcia have built both an audience and a platform. Over the years, Forum Lounge events attracted swarming crowds and earned multiple grants in recognition of artistic excellence from such organizations as the National Endowment for the Arts. Silva's tastes in performance are eclectic, which means that On Edge will feature many different aspects of the fragmented contemporary performance scene. The fact that audiences must expect the unexpected is actually a part of the plan, as Silva explains, the mostly free programs "mark Santa Barbara as a community that values curiosity and new experiences."
So what kind of unexpected should you expect? On Friday night at Municipal Winemakers (22 Anacapa St.), Annie Dorsen will create Spokaoke, a variation on karaoke in which the songs are replaced by world-famous speeches. That one's fully participatory. On Sunday night at Center Stage Theater in Paseo Nuevo, Janie Geiser will present Fugitive Time, an ambitious "performance film" that was commissioned by MCASB for the festival. Geiser, who moonlights from her performances as one of the magazine world's most-sought-after illustrators, will use Bunraku-inspired puppets, cutouts, shadow puppets, and a live video feed to examine an interwoven set of stories drawn from the history of Los Angeles, TB patient narratives, and medical illustrations. Fugitive Time is one of the two On Edge events that will be charging admission, but judging from the quality of Geiser's film work, it will be worth it, especially if you love collage and multimedia.
Yet another strand in the various approaches to performance art represented in On Edge comes out of modern dance and embraces raw physicality. On Saturday night at Center Stage, Faye Driscoll and Jesse Zaritt will perform Driscoll's piece You're Me (Redux). This postmodern duet creates what San Francisco Chronicle reviewer Allan Ulrich described as "a relationship so fiercely projected, you're occasionally afraid you'll get bitten by one of the performers." By combining the athleticism of contemporary dance with the edgy sensibility of performance art, Driscoll and Zaritt deliver what Silva sees as the peculiar "beauty" of performance art, "it's visceral, ephemeral, and transient, just like our daily lives."
4·1·1
On Edge will be at various venues from Thursday-Sunday, September 18-21. For the full schedule and to make reservations, visit mcasantabarbara.org.