Theater
Boeing Boeing's Curtain Call
Circle Bar B Goes Out with Laughter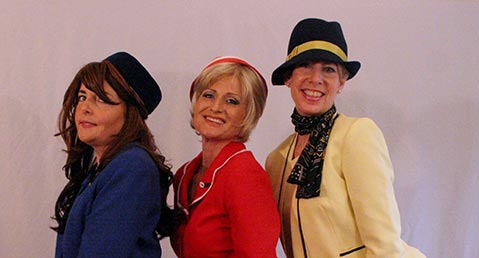 With one last show to go before the Central Coast's longest-running authentic dinner theater packs its props and exits the Circle Bar B barn in Refugio Canyon, it's fitting that the choice is a play that's been around nearly as long as the theater has. When Marc Camoletti's Boeing Boeing premiered in 1962, it was actually ahead of its time. The play's focus on the way that Parisian lothario Bernard juggles three different fiancées, each of a different nationality, all of them flight attendants (thus the title), didn't become a hit until 1965, when a seven-year run at the Duchess Theatre in London set it on its way to becoming the most produced French play of all time. And, while the cringe-worthy premise may imply an awkward datedness to the play's material, apparently the opposite is true, as demonstrated by the success of the 2008 Broadway revival staged by Matthew Warchus, which won the Tony Award for Best Revival of a Play in that season.
Talking with Susie Couch, who produces the shows at Circle Bar B along with her husband, David, and who will play the role of Berthe, Bernard's French housekeeper, I found I could understand the appeal of Boeing Boeing at a moment when the theater is going, going, and without a definite destination announced.
"It might be our silliest show ever," Couch said, which means, as anyone familiar with such recent triumphs as The Fox on the Fairway will attest, very silly, indeed. "The way it has been working in rehearsal, we've been saying 'yes' to just about everything. Like, someone will ask, 'Is a spit-take too much?' and then we all look at each other, and it's like, 'Too much for the last show? No way. It stays.'"
Couch and director Gerry Hansen have been talking about doing Boeing Boeing since the Tony Awards in 2008, but rights for the play were tied up until just this year. Hansen, who teaches theater at UCSB and runs the school's innovative Shakespeare in the Park program, is an expert director of commedia dell'arte, the Italian tradition in which highly skilled actors perform stylized roles requiring both acrobatic skills and split-second timing. She will have a great cast to work with, including Indy Award winners Tiffany Story and Jenna Scanlon. Boeing Boeing, with its panoply of slamming doors, sudden entrances, and high-flying leaps over furniture, will challenge them, as Couch asserts it is "a very hard play to pull off — maybe even more difficult physically than Noises Off."
In an interesting side note not atypical of the community that's formed over the years around this Santa Barbara theater institution, the curtain call will be a dance to the music from the soundtrack to the film Boeing Boeing. Neal Hefti, the jazz trumpeter and composer who wrote the theme music for The Odd Couple, also wrote the music for the film of this play, and when he heard that Circle Bar B was doing the show, his son stepped forward to offer his assistance and the option of using his father's music. It's just one more touch of serendipitous synergy pointing toward a memorable exit for this beloved institution.
As far as prospects for the theater's new home, Susie was guardedly optimistic in her response. "We have weird, strange, and interesting prospects," she said, "and we're considering everything." Let's hope that the show will go on and, in the meantime, that this double Boeing will land its jokes and disembark laughter.
4·1·1
Boeing Boeing will be at Circle Bar B Dinner Theatre (1800 Refugio Rd., Goleta) September 19-October 26. Shows are on Friday and Saturday evenings with dinner at 7 p.m. and the performance promptly at 8 p.m. Sunday matinees begin with the meal at 1 p.m. and the show at 2 p.m. For tickets and information, call (805) 967-1962 or visit circlebarb.com/dinnertheater.